Best holidays in Moscow: Travel real Russia

Why us?
• We are a small family business! We do tours with a personal touch for the most affordable price
• We have adventure tours: with us you may travel Russian arctic, amazing ice caves and tundra wilderness
• Our goal is to show you real Russia, not just a beautiful picture for your Instagram

• You can choose authentic UAZ military van looking like it is still 1965 for each tour

• Our guides are knowledgeable and friendly locals never boring you with dates and names only

Experience what others only dream about!
Russian tourism has become more and more popular with time. People believe that it is safe to travel in Russia now and a lot of information about Russia is widely available. However, there are still questions. Are tourists satisfied with trips to Russia? Is it safe and easy to travel in Russia? Are Tourists welcome and accepted by locals? We can say yes, usually, but remember that this is Russia and, the past is not easy to overcome. Rigid critics, unhappy and confused travelers, and many travel professionals confirm it can still be a bit rigid and bureaucratic.

But for the romantic and free spirited adventurer, one who is unafraid of unfamiliar cultures and customs, one who easily adapts and accepts the conditions of foreign travel, a delightful world of ancient history and amazing sites and travel experiences await!

Are you tired of bus tours with limited access and visibility? Do you find the boring guides who wander the million-times-beaten tracks spouting numerous confusing and insignificant facts about Yuri-who-is-that-guy-Dolgoruky? You have come to the right place! We are sick of such old-schooled Russian tours, too.

Our Modern and Upbeat Travel Agency was created to replace the paradigm of package tours as the best "value for money". We are a small family business; therefore, we do rare and extraordinary tours with a highly personal touch at the most affordable prices. Check us out… see for yourself! With us you will discover places bus tours can never reach at a pace to suit you. Whatever your age, mobility and interests we will provide a wonderful insight into our Moscow heritage. Make your Russian holidays unforgettable and... Travel the real Russia!
Sounds too good?

Check by yourself

:)

Subscription includes weekly discounts, HOT tour information and... funny stories about our journeys!

Price: from 4500 RUB / group price

Visit Moscow? A driving tour around the city is an opportunity to see the main Moscow attractions regardless of the weather. The route is flexible and will depend on your preferences. We will visit not only the traditional attractions in Moscow but also some less popular places that will make your Russian holidays unforgettable. For example:
> Arbat and Tverskaya street (the largest city streets)
> Sparrow hills (Moscow University, monument of Stalin's epoch)
> VDNH (Museum of Space Exploration, monument of Stalin's epoch)
> Victory Park (memorial complex of WWII)
A minivan tour is perfect for those who wants to make the most of their time in Moscow!
Transportation:
1) Travel in a unique and very authentic, but less comfortable, «CrazyBu» van.
2) Travel in a very modern and comfortable, but not authentic, Pajero IV (up to 4 people).
Duration:
Day tour takes about 4 hours. Night tour takes 3 hours (10 p.m. - ...)
Price:
1 person: 3500 RUB
2-3 persons: 4500 RUB /
group price

4-7 persons: 5500 RUB /
group price

Price: from 3500 RUB / group price

During the tour you can choose the most interesting routes and subjects:

>>> Moscow city tour

Spend your first day in Moscow walking its historical and cultural center. You will experience the city walking through main Moscow attractions in good company!


>>> Back in USSR tour

Discover the Soviet Heritage and its impact on modern Russia: Stalin's repressions, the Cold War, "perestroika"... We will travel around the KGB headquarters, the famous grocery store "Eliseevsky" and the Moscow University.

>>> Metro and city tour
Moscow metro is not only the best method of transportation in Moscow, but also one of the most picturesque subway systems in the world. Spend your Russian holidays moving between sightseens via the metro while enjoying its dramatic and historic interior!
Duration:
4 hours
Price:
1 person: 2500 RUB
2-3 persons: 3500 RUB /
group price
>4 persons: 4500 RUB /
group price

Price: from 12 000 RUB / group price

Perhaps you already know, but there is a great difference between Moscow, St. Petersburg, and all other towns and cities in Russia. Visiting the countryside is a great opportunity to travel the real Russia and to see the common life of ordinary people. The best choice for a one-day Russian countryside experience is the Vladimir and Suzdal tour.

Vladimir and Suzdal are small towns that are famous worldwide because of their great history and picturesque architecture with numerous UNESCO World Heritage Sites of the 12th century. Aside from golden cupolas of stunning churches and monasteries, you will experience a very rural real Russian outlook with bubbling streams and grassy meadows, chickens and livestock, and interesting and authentic local residents. All are a common sight on the streets, some of which remain unpaved. Be ready for a full-day trip and many unforgettable experiences during your Russian holidays!
Duration:
14-16 hours
Transportation:
CrazyBu minivan or Pajero IV
Price:
1 person: 10 000 RUB
2-3 persons: 12 000 RUB /
group price
>4 persons: 16 000 RUB /
group price

Price: from 10 000 RUB / group price

"CrazyBu" is a very unique off-road Russian minivan with sturdy axles, solid frames and a robustness built into everything. This vehicle was designed in the 1950s as a support vehicle for military forces. It is still being produced today as it was sixty years ago… And, surprisingly, it looks almost like it did in 1965! Driving it on typical Russian mud road will make you feel like a real Russian!
For a second part of our adventure, you will visit a network of underground limestone caves with an experienced caver guide. Depending on your adventurism, you can either wander in some easily accessible and beautiful cavern halls or you can search the depths of remote parts and the most challenging kilometers of a lengthy underground network!

Finally, after a long day of exploring, you will have a lovely meal of our traditional food and enjoy a blazing campfire.

Duration:
8-12 hours
Transportation:
CrazyBu minivan or Pajero IV
Price:
1 person: 8 000 RUB
2-3 persons: 10 000 RUB /
group price
>4 persons: 14 000 RUB /
group
price
"Travel real Russia" tour to Staritsa
Price: from 24 000 RUB / group price

Staritsa is a 700 year old town standing on the bank of the Volga River, «the mother of all Russian rivers». Many years ago, it was a royal residence of Ivan The Terrible, famous Russian ruler. At present, Staritsa is a small city with only 8000 citizens living in the shadow of neighboring Moscow. It's rare for a tourist to visit this godforsaken corner of a Russian province... This is the REAL Russia! However, Staritsa stands out for its great history and beautiful surroundings. Traces of a previous epoch are still evident here, it is truly the place where time stopped!

1 day
: Wandering around the 700 year old Staritsa town, while exploring its abandoned churches, old mansions and a real monastery.
2 day:
We enjoy an ecotour along the Volga river with its light pine forests, clear waters and swift currents.. You may also visit a network of underground caves, a husky nursery and even try the "CrazyBu" van in an offroad experience!
Duration:
2 days
Important:
Final destination may be 3 hours by speed train from St.Petersburg!
Transportation:
CrazyBu minivan or Pajero IV
Price:
1 person: 18 000 RUB
2-3 persons: 24 000 RUB /
group price
>4 persons: 36 000 RUB / group price
Not included: hotel (about 1000 RUB/pax; tent is for free), meals in a local cafe
Want more? We also have a 5-days tour package including Staritsa, traditional village, Volga River ecotour and Novorod the Great!

Price: from 21 000 RUB / group price

A Dacha is a traditional Russian summer house for spending the weekends. Every family in Russia has a dacha! It is, in many ways, the heritage of Soviet times when people had little money and food, so they had to grow their own vegetables and even raise some livestock. At present, many seniors enjoy a rest at the dacha but still like gardening, just out а habit, while the younger generations may prefer just to take a rest.

1 day
: Spent walking around a small village located 200 km from Moscow. We will visit local houses and learn the stories of the people living their whole lives there. They will tell you about their common life, their habits, and the households. Then we will visit a local farm to see how they keep their livestock and have a chance to taste some real fresh milk and eggs.
2 day:
On the way back we will visit "Archstoyanie", the biggest land-art and architecture open-air museum in Europe which is located amongst the beautiful sceneries of the "Yugra" national park. This is a wonderful place to spend a whole day wandering around and wondering about the wonderful imagination of its creators! Ãmazing days during your Russian holidays!
Duration:
2 days
Transportation:
CrazyBu minivan or Pajero IV
Price:
1 person: 16 000 RUB
2-3 persons: 21 000 RUB /
group price
>4 persons: 30 000 RUB / group price
Not included: meals in a local cafe
Our Ice cave tour will take a place at the Pinega nature reserve during April 2018. This place is located about 1500 km from Moscow to the north, only 200 km from the White Sea. There are more than 500 caves, ravines of many kilometres long, and karst lakes in Pinega area. Amazing places for all kind of ecotourism!Despite the unspoiled natural landscapes and the beauty of the ice caves, this place is off the beaten tracks even for Russians.
This April we will travel all Russia from Moscow to see the natural wonders of Pinega Ice caves. You need no special training to join cave expedition, just adventurous spirit and love of nature. Be ready to feel some minor discomfort because of the cold, long trips and crawling in caves. It's worth it!
Besides that you will see a lot of traditional Russian village and visit the unique museum of wooden architecture!It's a real Russian countryside "off the beaten" tracks.We will have many-days 4x4 adventure trip with many winter roads and even ice crossing of 3-km width North Dvina river... And we will wonder Northern lights (if we are lucky!)

Duration: 10 days
April 2018
4x4 Arctic adventure tour
This March we will travel across Russia driving two rugged and fully equipped 4x4 jeeps to explore the Russian Northland and Arctic. We will be on and off-road tripping in the middle of nowhere during for two cold but eventful weeks in order to experience Russian North Country and all it has to offer. Be ready to face the difficulties. Be ready to explore the wildernesses. Be ready to have a true adventure!

Our tour is a true adventure. We don't want to set any rigid schedule, we just want to be road tripping, actually off-road tripping in the middle of nowhere. This is how to really experience the country and all it has to offer.

We want to face the hardships and challenges, absorb the pristine nature of the Russian North, experience the unique and hardened life of the local people, become hypnotized from the brilliant and exotic glow of the Northern Lights and, most importantly we will bond with our new friends and enjoy the company of courageous and enthusiastic travel mates who are on the same wavelength with us.
Duration: 2 weeks

March 2018
An adventure tour in the Rybachy Peninsula, the northernmost part of continental European Russia.
Be ready for a lot of off-roading, camping, fishing and hiking. We will see a waterfall, cross a lot of rivers, enjoy open spaces of arctic tundra, observe ancient post-glacial cliffs and look at whales in the Arctic ocean! We will also visit abandoned military bases and see traces of WWII.

Duration: 15 days
Summer 2018
Price: 360 USD / day for group (up to 7 people)

Moscow and St. Petersburg? Karelia and its crystal lakes? Golden Ring and old churches? Tracking and caving in Caucasus mountains?
You can try any route with CrazyBu! We like challenges, so we can plan and organize many unique trips!
Make the most of your Russian holidays and... Travel Real Russia!

Our «CrazyBu» van is an original and authentic Russian military UAZ-452 van, built in 2010. Initially, this vehicle was designed in 1950s as a support vehicle for military forces. Now it's still being produced, just as it was sixty years ago… And, surprisingly, it looks almost like it did in 1965!

The UAZ-452 looks very similar to a VW transporter, but there is also huge difference: VW was designed in Germany, the country of perfect and numerous paved highways. Our «CrazyBu» van was designed to survive in Russian countryside. It is a Land Cruiser 40 at the back of its mind – sturdy axles, a heavy frame, stout under drive and robustness in every way. Do you really need to build highways if you produce such vans?

Combined with four-wheel drive, it was born to endure any off-road condition! Nine men can be comfortably seated inside this van – and nine men can push it out of any mire! Unfortunately, the design engineer considerably upgraded the engine: now it cannot use any liquid as a fuel except Au-92 :)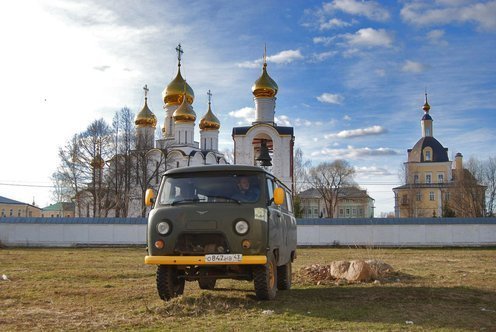 Who is behind "Travel Real Russia"?
Hello! My name is Anton Terentev, I'm the owner of the «Travel Real Russia» company! If you want one of the driving tours, I would definitely be your guide!

I studied medicine in te Moscow Medical Academy. I am a licensed physician and doctor with 6 years' of experience. Nevertheless, one day I decided to change my way of life and start doing what I really want to do – travelling, meeting new people and broadening my view and horizons!

I know a lot about bustling Moscow, its secret places and their stories. Even more I know about Russian countryside, where epochal monuments neighbor with abandoned churches and desolated villages showing you severe traces of 20th century.

Do you want to explore one of the most complex, confounding and contradictory countries? You came to the right place. Make the most of your Russian holidays!

Join us and let's travel the real Russia!