How Russians Celebrate Christmas and New Year

Spend a magnificent Christmas day in Moscow on a tour... or travel further with a very special day trip!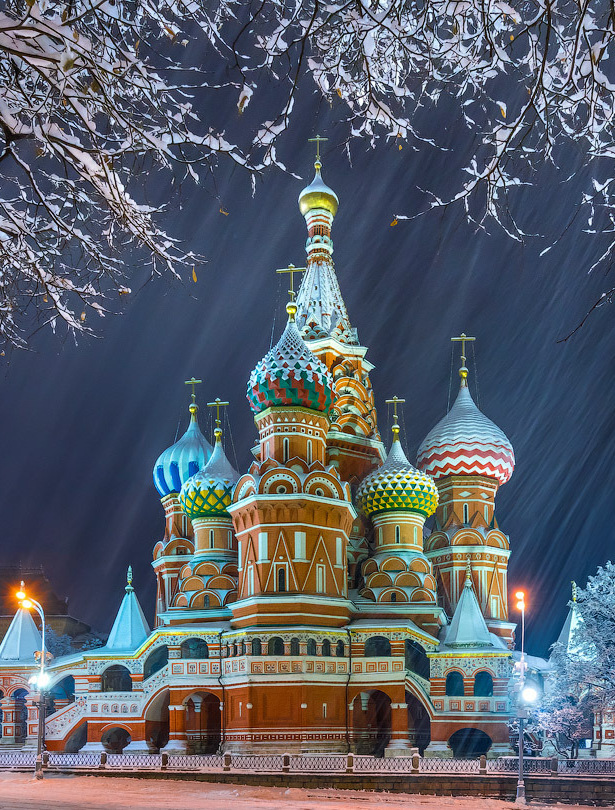 New Year instead of Christmas?
For most Europeans and Americans, Christmas is their favorite winter holiday. And although people celebrate the New Year around the world, Christmas is the most important date for sure.
In Russia, everything is different. Senior Russians still celebrate Christmas that happens on 7th January, but younger people sometimes do not know about this holiday at all. It remains mainly the religious holiday. But the most beloved and expected holiday of all Russians is New Year's Eve. People around the whole country celebrate it during the night from December 31 to January 1!
Tought story of Russian holidays
The true story is very very long… Being short, Russians celebrated Christmas during the Tsar's times. The calendar was different, so Christmas was celebrated on 7th January. During the Soviet times, this religious holiday was consciously changed by neutral "New Year".
Now younger generation do not remember that Christmas was the main holiday… no, they used to New Year and celebrate only it. Modern Russian government does not want people to celebrate the Soviet ones. So again, majority of Soviet holidays were changed for modern ones on the close dates. However, people are not used to them.
So now the New Year is the only one important holiday during the whole year! It does not related to any political or religious staff, so everyone loves it!
New Year… how do people celebrate?
December 31 is the main day to hustle, buy last presents, buy tones of food to cook delicious meals and make final preparations. On this day, people try to complete all unfinished business, to pay off debts, to tidy the house. It is believed that "as you celebrate the New Year, so you spend it".
In many houses, Christmas tree decoration becomes an annual tradition for the whole family. The farther brings the cute green tree from the local market or some huge shopping moll (in Moscow). Mother gets out Soviet decorations with bright animal figures, sparkling stars and balls, fairy lights, so children may put them on the Tree. Decorated Christmas trees also appeared in the central squares, in front of the Culture Houses, and in stores, creating the atmosphere of the New Year's holiday!
During whole day, mothers usually cook a lot of meals… "Russian salad" (we call it Olivie salad), herring salad, a lot of snacks, drinks and fruits, especially mandarines, the real symbol of the New Year. The table should be rich, this is another popular belief. People also asks their friends and relatives to come and celebrate the New Year for together.
Usually people prepared the holiday table up to 9-10 p.m., then family members dress their best clothes and meet their guests. After they sit behind the table spending time chatting and speaking long toasts wishing everything best to each other. New Year is not full without watching "the Blue Lights" and other TV shows with merry songs and famous people's congratulations.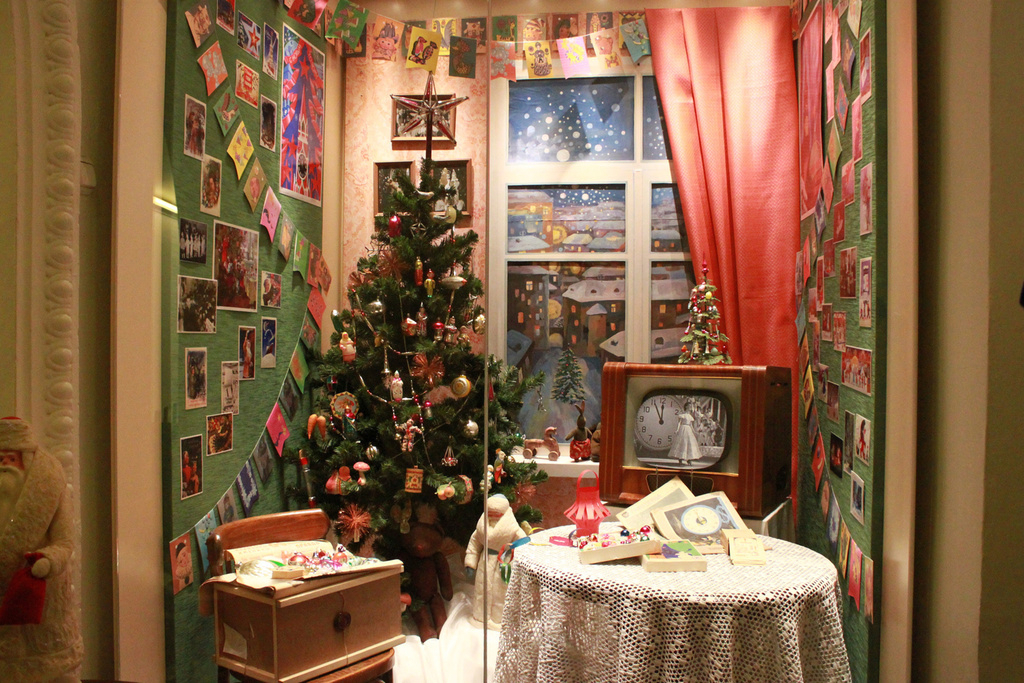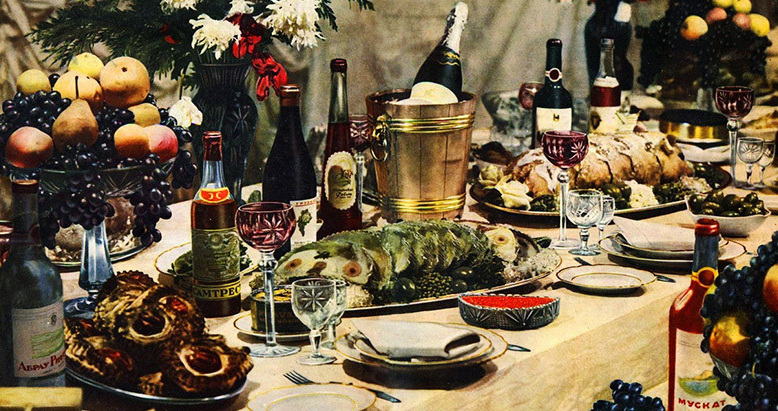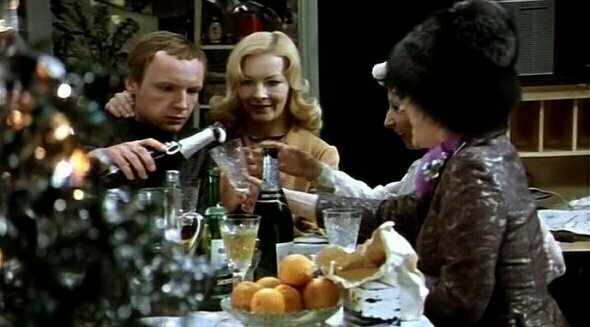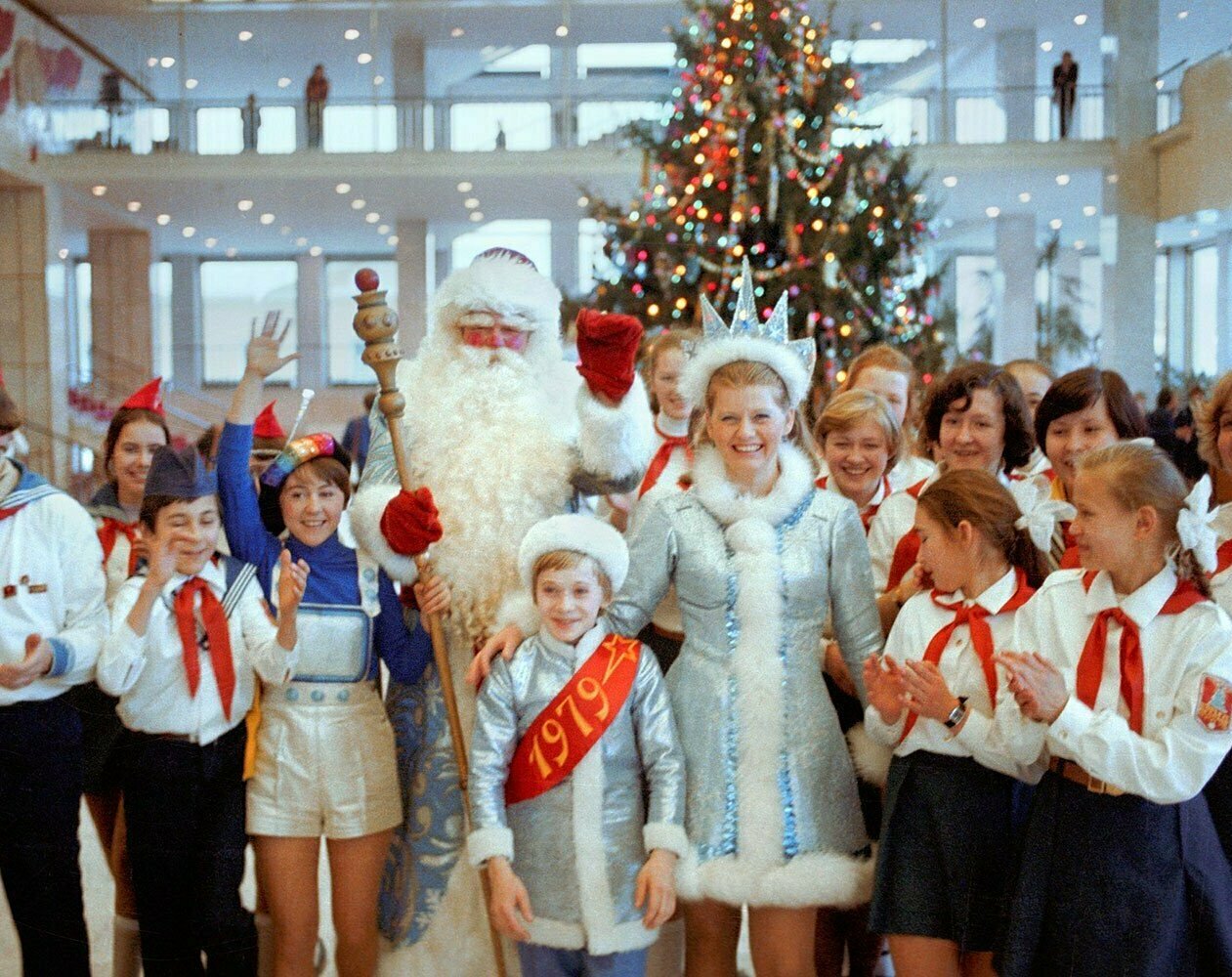 The main Movie of every New Year
Another "must-do" is a wonderful film "The Irony of Fate, or Enjoy Your Bath!" that every Russian watch every year since 1970s! It's a love story with all typical New Year things… A group of old friends go to banya and drink too much, so the main hero wakes up in Leningrad believing that he is still in Moscow. Beeing still a little bit drunk, he found "his" home with the same street name and apartment number. Then a nice woman which is the real owner of the flat finds him without trousers in her bed… Of course, she has a fiance but fall in love with a stranger. Russians are in love with the story!
Ded Moroz and Sneguroshka
Russians have their own Santa Claus which is called Ded Moroz (Grandfarther the Frost). He has an assistant - a girl from the snow named Snegurochka (Snow Girl). Every year, this couple attends various New Year's events in kindergartens, schools, and cultural centers. Children traditionally dance around a beautifully decorated Christmas tree, sing songs and receive wonderful gifts from Ded Moroz and Snegurochka. In the New Year's Eve parents or their friends dress as Ded Moroz and Snegurochka bringing a lot of presents to children. Sometimes parents just hide them under the tree, so children finds them in the morning thinking that Ded Moroz actually brang them.
Since 1998, Russian Santa Claus settled in a city called Veliky Ustyug. There is his residence, a souvenir shop and a post office. A large number of letters from Russian children come to Veliky Ustyug from all over the country, while not a single letter is left unanswered. In letters, children ask for what they lack. These are mostly toys, but there are many emotional letters as well.
As the culmination of the holiday is approaching, people get closer to TV to warch the New Year's speech of the president and the battle of the clock. Usually, a speech starts at 23:55 being broadcast by all media. The president sums up the year with a brief report on the work done, and wishes everyone good luck in the New Year. During last years, people do not take it too serious being embarrassed by politic of the country.
Exactly at midnight Russians open the champagne and make wishes. They launch fireworks at the streets, joyfully scream and congratulate each others. Then families dress up warmly and go outside to walk around, watch fireworks and ride the ice luges. Even children may go to sleep very late during that night!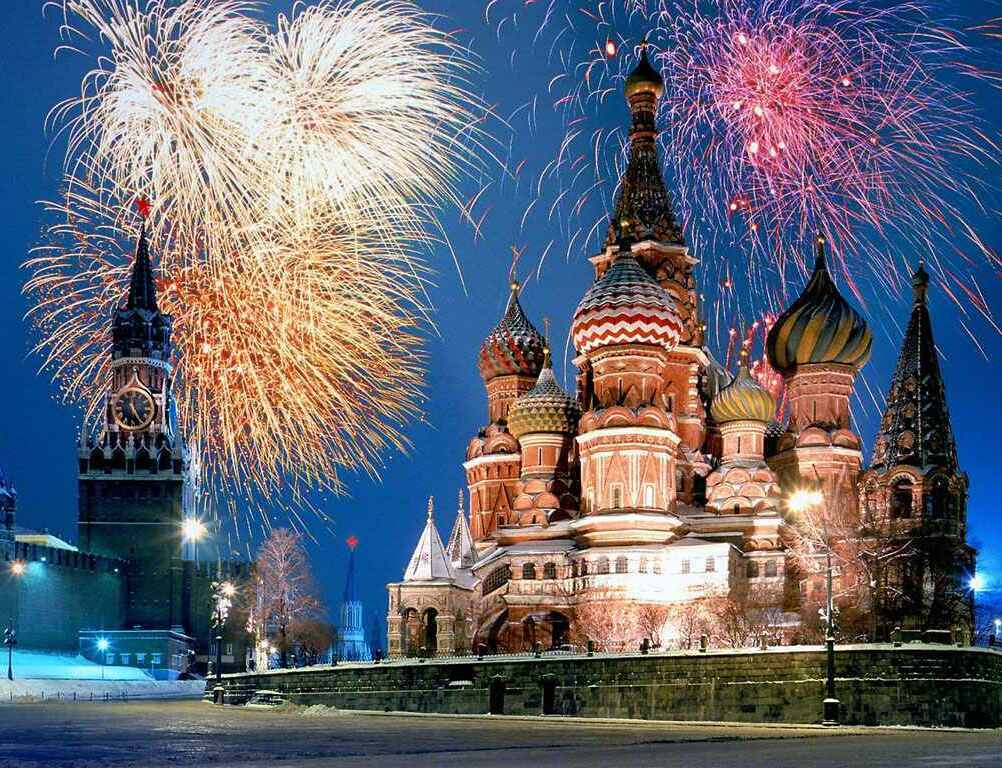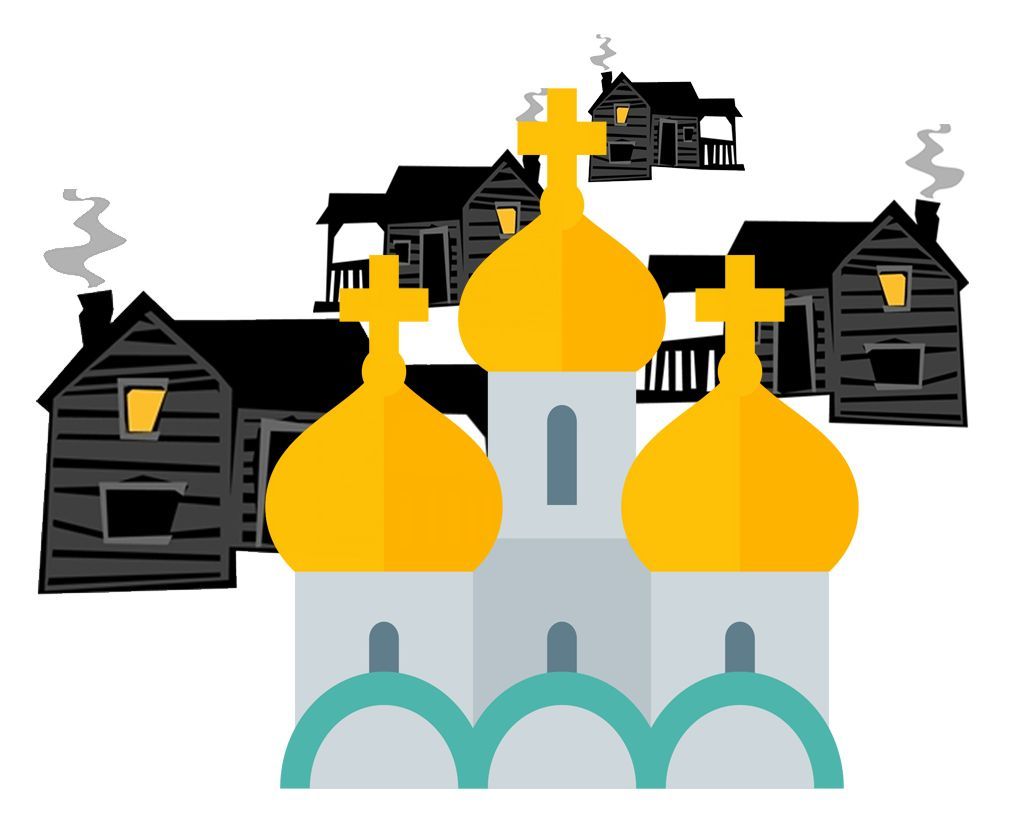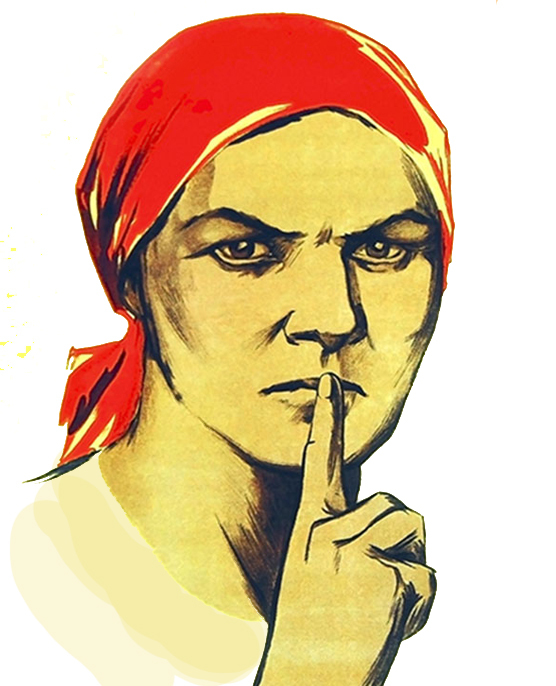 Russian Way to Celebrate New Year's Eve with the Family: Dacha, Christmas Tree, Dinner and Toasts
Обработка видео...
More Stories about the Russian Winter

Short video about our Adventure tour. Tony tries to cross the ice river in a Soviet van... Not an easy task!

One of the greatest options to explore the real Russian Arctic if you have a great company and about 20 days