Traditional Russian Cuisine vs. What Do We REALLY Eat?

This article was written when I became finally disappointed by numerous untrue articles of "the traditional Russian cuisine"
"Traditional Russian food" from the majority of Internet articles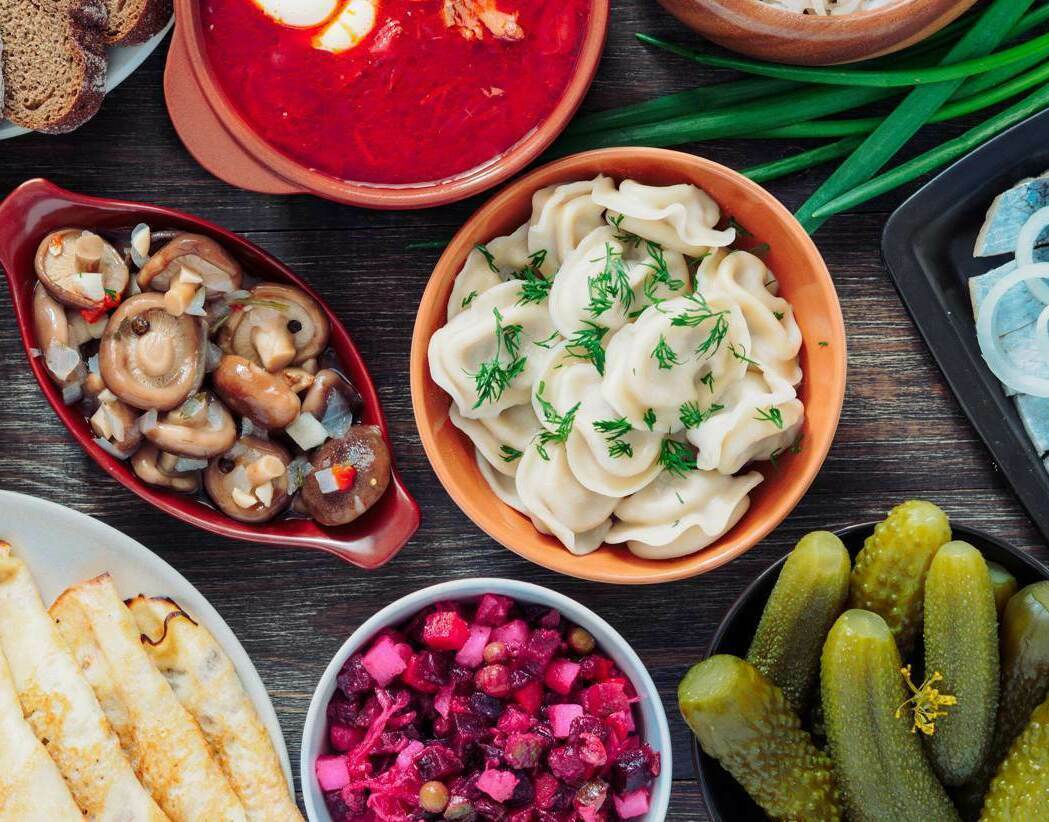 Look at these photos! Where is the truth?
"Peasant dinner", the painting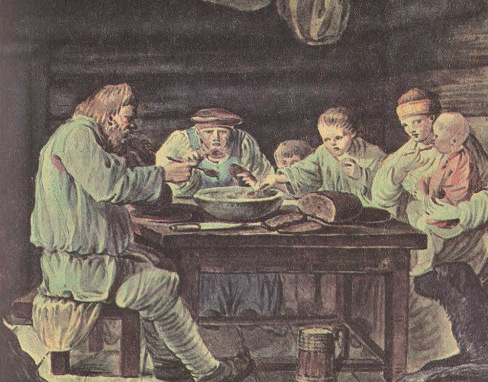 "Traditional Russian food" from the majority of Internet articles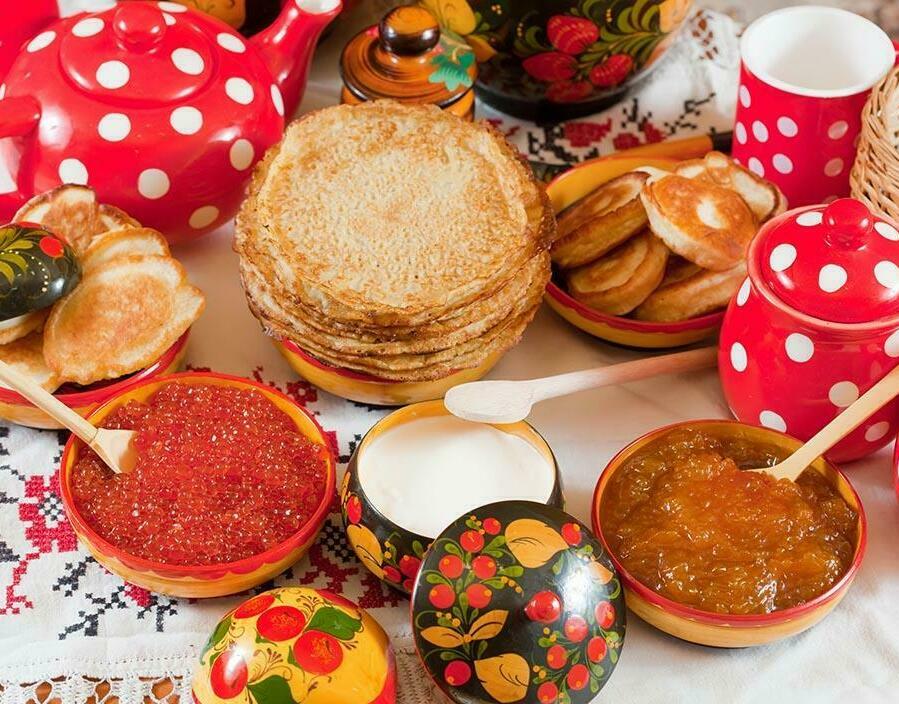 Peasant women of 1931 wonder where's their "traditional red caviar and pancakes?"
Peasant dinner, photo of 1931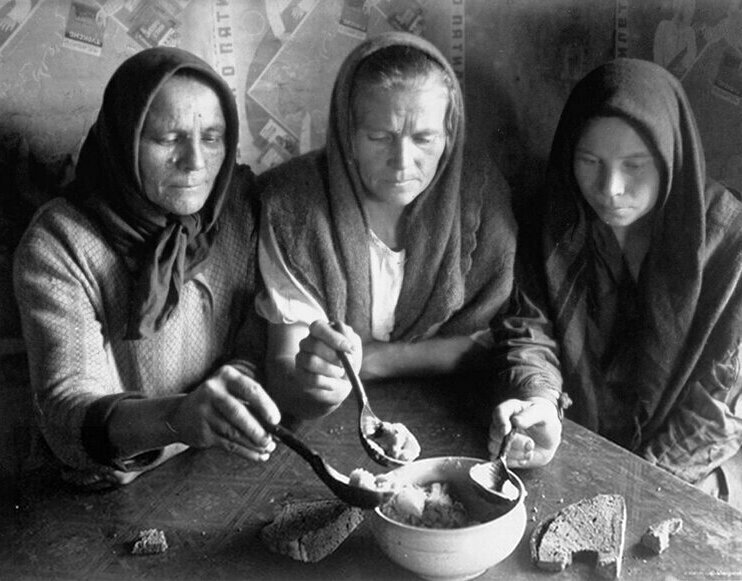 What's the "traditional food"?
Really! Is it the typical food of peasants during last several centuries? Is it the normal food of people during the USSR times? No, usually, all these articles talk about dishes that are considered as "very Russian" among foreigners during last decades.
But in reality, "traditional Russian cuisine" from Inetrnet articles talk about...
Traditional holiday food of the USSR times! Feel the difference.
Being a native Russian, I rarely eat most of "traditional Russian food" even once a weak. For example, I really love Olivie or Russian Salad as the most Russians do. The problem is that we eat it only during the holidays as birthdays and New Year or at the restaurants. What about me, I enjoyed Russian salad only 5 times during the last year. The same story is with herring under the fur coat, vinegrette, pirogi and pryaniki! Is it OK to call our holiday meals of the last century as our "traditional food"?
Summer lunch: bortsch, some vegetables, sour cream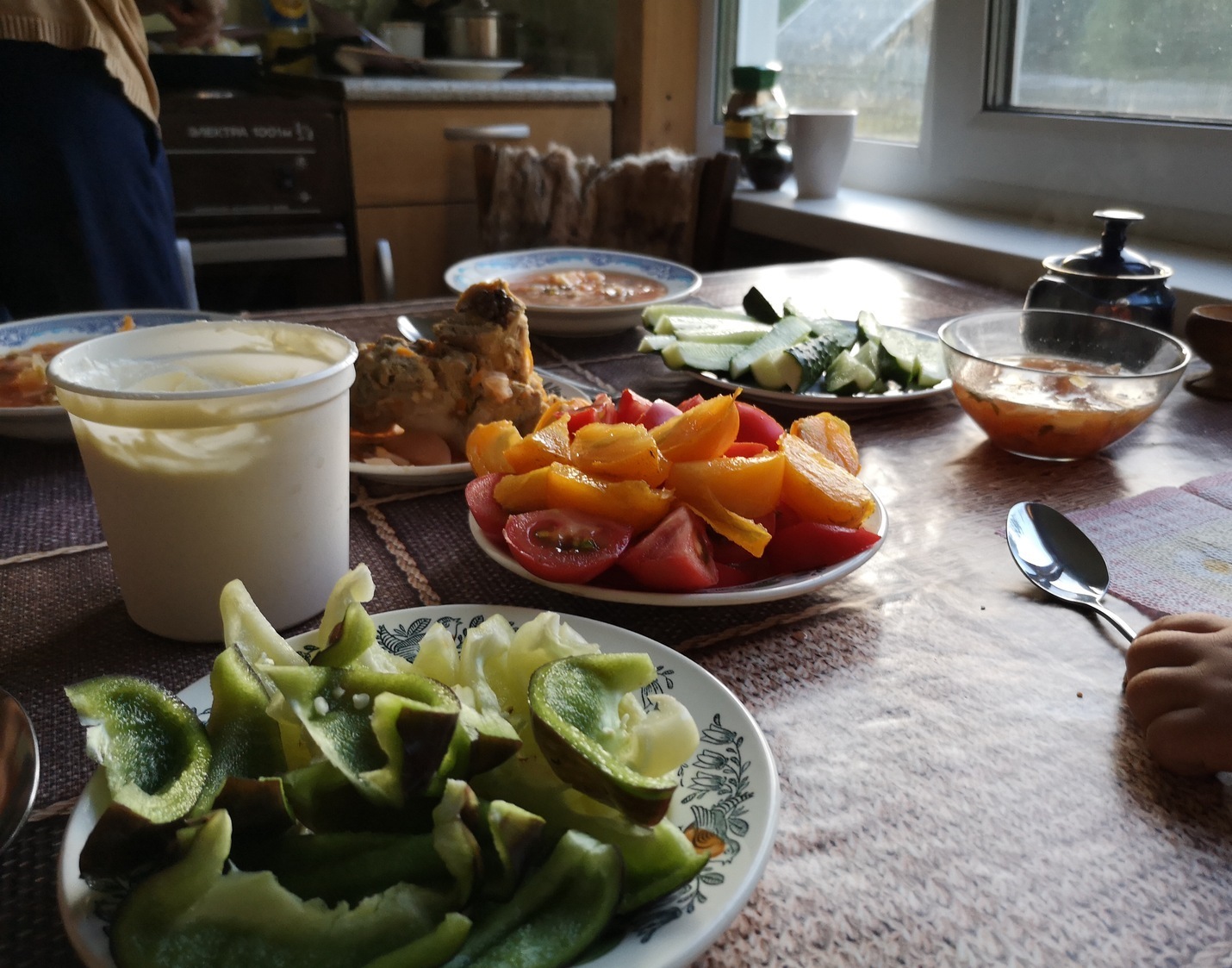 New Year: a lot of salads (olivie!), sandwiches, salty vegetables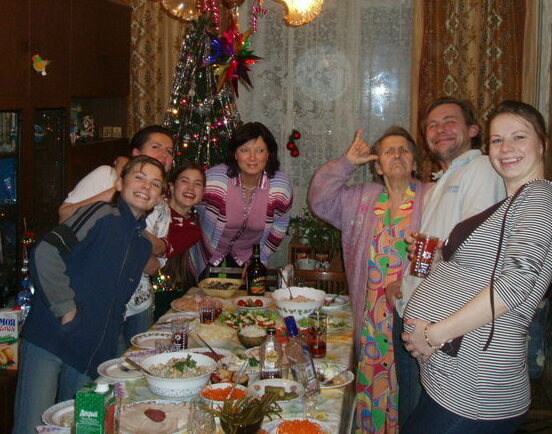 What's more, all this amazing dishes from the Internet articles became popular only during the last 20 years of prosperous years. The 1990s was a hard period for most Russians with only simple food (a lot of products were from the own garden). Last years of the USSR was a period of food shortages. People from the countryside needed to go to Moscow to buy meat. Standing in the lines to buy milk, bread and so on was a normal way of life.
When I was child I adore oranges and fruit juice because we could afford it only once in a month! Olivie salad was certainly the tradition of our family, the problem that we cooked it several times a year.
The peasant food of the Imperial Russia was simple! People have no time to cook delicious meals because of hard physical job on the fields. Milk and meat was a rare thing even among well-doing peasants. In the beginning of 20th century, 60% of food calories came from bread, while only 15% of calories were from animal products (mainly it was a milk!) Peasants baked bread 1-2 times in a weak. Schi (soup from vegetables) was the most popular food as well as porridges from different types of grain. In the summer, people loved fresh vegetables (especially turnip). Should I say that they had no borsch or herring under the fur coat on the everyday basis?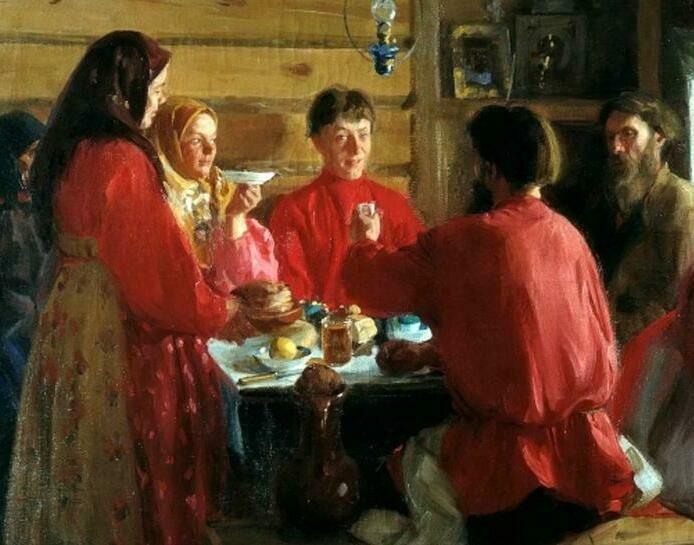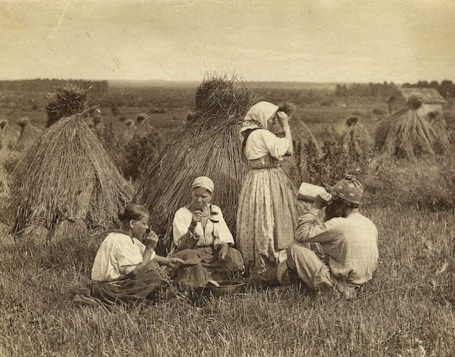 So what do we REALLY eat in Russia (now and then)?
The normal food of modern families usually include soup (the first dish) and some side dish with meat (the second dish). Bread (white and black) is the most traditional food ever. Our parents and their parents ate bread with everything from their plates. In the summer, vegetable salads and fresh vegetables were a must thing on the table as well. In the winter, families with gardens often eat their own salted vegetables, it was especially popular decades ago when people have no money for fresh vegetables. Now many people buy fruits and vegetables any season.
Soups (from 16th century)
Majority of modern Russian soups have not existed till 15-18th centuries! Moreover, there were no tomatoes and potatoes (important ingredients of Russian soups) till 18th century! Borsch… the most traditional Russian soup appeared only in 16 centuries and consisted of beat, cabbage, onion and carrot (no tomatoes and potatoes). Only schi (or cabbage soup) and some strange soups made of salted water and bread were popular that times.
Which soups Russians prefer nowadays?
Schi is initially the name of all soups in Russia. Now "schi" is the cabbage (or sour cabbage) soup with meat and some other vegetables. Schi is a popular soup among Russians till now, cause it's cheap and easy to cook!
One of the most popular and certainly the most respected soup among people nowadays. You may read that cooking the borsch is not an easy task. Actually, it takes about 2 hours to boil meat including half an hour of cutting vegetables.
Another popular soup that is based on pickles and potatoes with the pearl barley. It's special because of the sour and salted taste that is balanced with sweet carrot and onion. It's also easy to cook.
Most Russian soups are with potatoes and the pea soup is not an exception! People also add some smoked meat there to make a special taste.
The most difficult soup to cook because it includes several types of meat and a lot of vegetables that needs cutting and cooking. This soup is extremely nourishing! It's great to take "solyanka" after the long walk in winter. People cook it not so often because meat is not cheap and soup takes some time to cook.
Borsch (beat, carrot, potatoes, onion, cabbage and meat)
Pea soup (pea, carrot, potatoes, onion, smoked meat)
Rassolnik (pickle, carrot, potatoes, onion, pearl barley, meat)
After the soup (or instead of it), people eat meat with the side dish. When both people have a job, they usually have no time for complicated dishes with millions ingredients. There's several most popular side dishes and meat meals in Russia
Which side dishes Russians prefer nowadays?
Usually it's not the Italian pasta, but just boiled macaroni. There's millions types of macaroni in every Russian supermarket. It's easy to cook and tasty with something meat and gravy. Russians are in love with macaroni (the word "pasta" is used for Italian dishes only). For example, the Soviet dish "macaroni po-flotsi" (navy-style): boiled macaroni with fried minced meat and onion). We also love macaroni with cheese and sausages. It's great to eat them with cutlets or any meat dishes.
It's our national food! We cook it in the morning to eat with the milk. It's also a great side dish, especially for pork and beef. It's tasty with cream or tomato sauce from the main meat dish.
Rice is another popular side dish that is great with fish or chicken. People rarely cook rice with vegetables and other additional ingredients. But we have pilaf (or plov in Russian). It's a traditional Uzbek dish, but during the Soviet times it became extremely popular among people (almost like borsch!) Russians also love rice porridge (with milk and sugar) for the breakfast!
I can certainly say that potatoes are the most popular side dish in Russia. It appeared only in 18th century, but because of its satiety it became "the second bread" in the 19th century. Now it's not easy to imagine Russian cuisine without potatoes… it's the most important ingredient of almost all soups.
There's three main ways of cooking potatoes: 1) peeled boiled potatoes, 2) mashed potatoes, 3) fried potatoes (not French fries!) It's so tasty that you can eat it without meat at all. You can make fried potatoes with forests mushrooms and the sour cream. I also love mashed potatoes with the squash caviar. Boiled potatoes are great with fresh onion and unrefined oil.
Boiled pasta with goulash
Macaroni in navy-style (po-flotski) with minced meat and onion
Pilaf (popular from the Soviet times)
Mashed potatoes with sausages! Classic from the USSR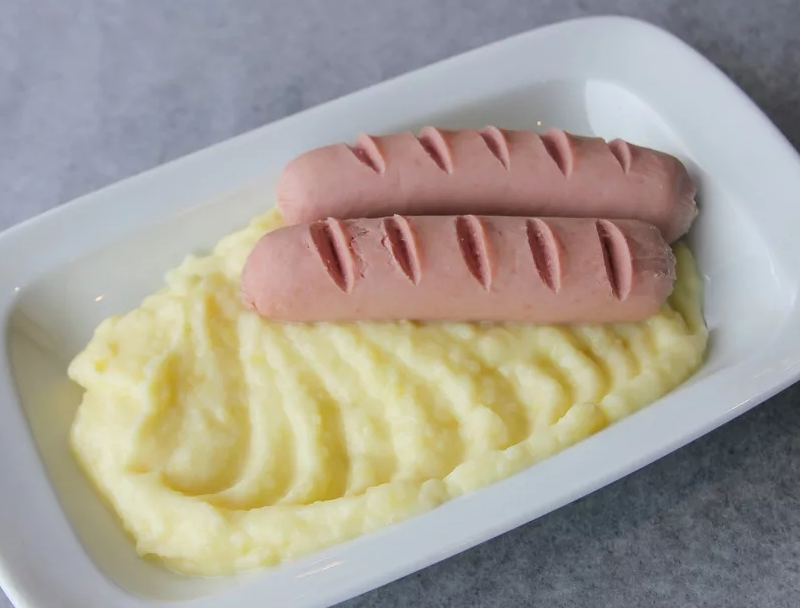 We plan to make

a big winter Tour from Moscow to Baikal for 1-2 months by car in 2020-2021

.
We will visit many cities and villages on our way there to see the real Russia as well as make a wonderful journey in Baikal region with visiting many non-touristic sites. Do you want to join? Email us!
You may also like other

R

eal

R

ussia Tours:
Perhaps you already know, but there is a great difference between Moscow, St. Petersburg, and all other towns and cities in Russia. Visiting the countryside is a great opportunity to travel the real Russia and to see the common life of ordinary people. The best choice for a one-day Russian countryside experience is the Vladimir and Suzdal tour.

Vladimir and Suzdal are small towns that are famous worldwide because of their great history and picturesque architecture with numerous UNESCO World Heritage Sites of the 12th century. Aside from golden cupolas of stunning churches and monasteries, you will experience a very rural real Russian outlook with bubbling streams and grassy meadows, chickens and livestock, and interesting and authentic local residents. All are a common sight on the streets, some of which remain unpaved. Be ready for a full-day trip and many unforgettable experiences during your Russian holidays!
Duration:
14-16 hours
Transportation:
Soviet van or VW Multivan
From Moscow to St. Petersburg for 5 days

•Road-tripping from Moscow to St. Petersburg

•Ecotour along the Volga River with visiting limestone quarries
•Real Russian countryside

•One day in a traditional Russian village

There is a great difference between Moscow, St. Petersburg, and all other Russia... The concept of this tour is to show you the real Russia with numerous small towns, pristine nature, abandoned churches and the life of people.

This tour does not include Golden Ring towns! Instead, you will see Staritsa town and Novgorod the Great, beautiful places to visit in Russia!

We will also visit an elderly couple living in a traditional Russia village. We will help them with their daily work - plowing the land (not by tractors, but by horses), caring for the livestock and cooking food in a traditional Russian oven… And surely we will taste some real fresh milk and eggs while they will be telling us about their common life, their habits, and the households.
The itinerary is perfect for those who are going to St. Petersburg. It takes only 4 hours to get there from Novgorod by a cheap local train.