Ultimate Guide: Overlanding & Road Tripping in Russia. Best Practices
Driving in Russia could confuse travelers from the First World. Some rules are easy to learn, others are not stated and comes from local driving traditions and people's expectations. Experienced driver in Russian knows plenty of minor details that help to park the car safely, find the best road cafe and not be disturbed by locals during the night stop.
Here is the most important information for people who plan to overland Russia. I might be easy road tripping within the European part or some adventures in Siberia… there's plenty you should learn before crossing the border on your van!
Russian drivers are thought to be crazy. Living in Moscow for 15+ years and traveling to other countries, I would not agree with that :) Have you ever been to Marocco, Turkey, or Vietnam? This is how crazy drivers look like!
However, we really have some problems with driving and following rules In Russia. Some people drive too fast on the highways and city roads (cause we have no fines for + 20 kmph!), others love to change the line too fast without using turn signals. There's plenty of immigrants in Russia who love to buy rusty old cars and race as it's Formula 1, not the city road…
There is still a relatively high rate of car accidents in Russia. Most of them are city crashes when people get no injures at all. Many-hours traffic jams are great to crash into the nearest car trying to find your next turn by confusing road signs. Icy and snowy turns in winter are the best places to lose control of the car. Avoid such situations.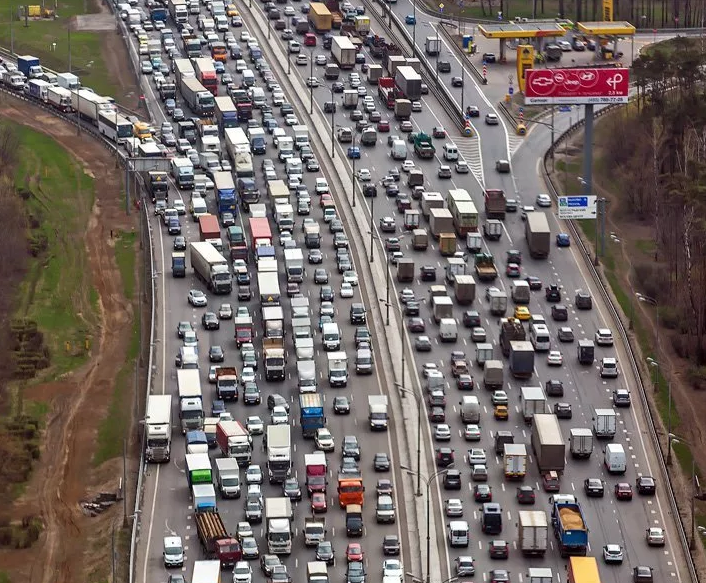 Great place to scratch your car (Moscow circle road)
The most dangerous are intercity roads with a lot of traffic and bad road conditions. Really, most intercity roads are single roads with narrow curb, many turns, and millions of trucks. Overtaking all these slow trucks is really dangerous where visibility is limited. To overtake them, some drivers break the rules crossing the solid line or driving to fast that might be dangerous for oncoming cars. Sometimes it's safer to break the rules when there are no oncoming cars than try to overtake the van in a short moment of traffic break.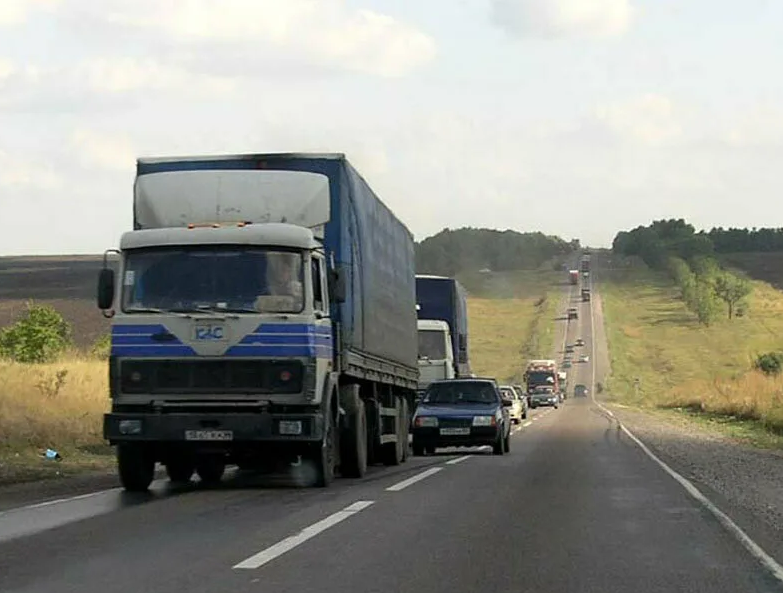 Dangerous! Slow trucks on the narrow road (in winter, it's much worse...)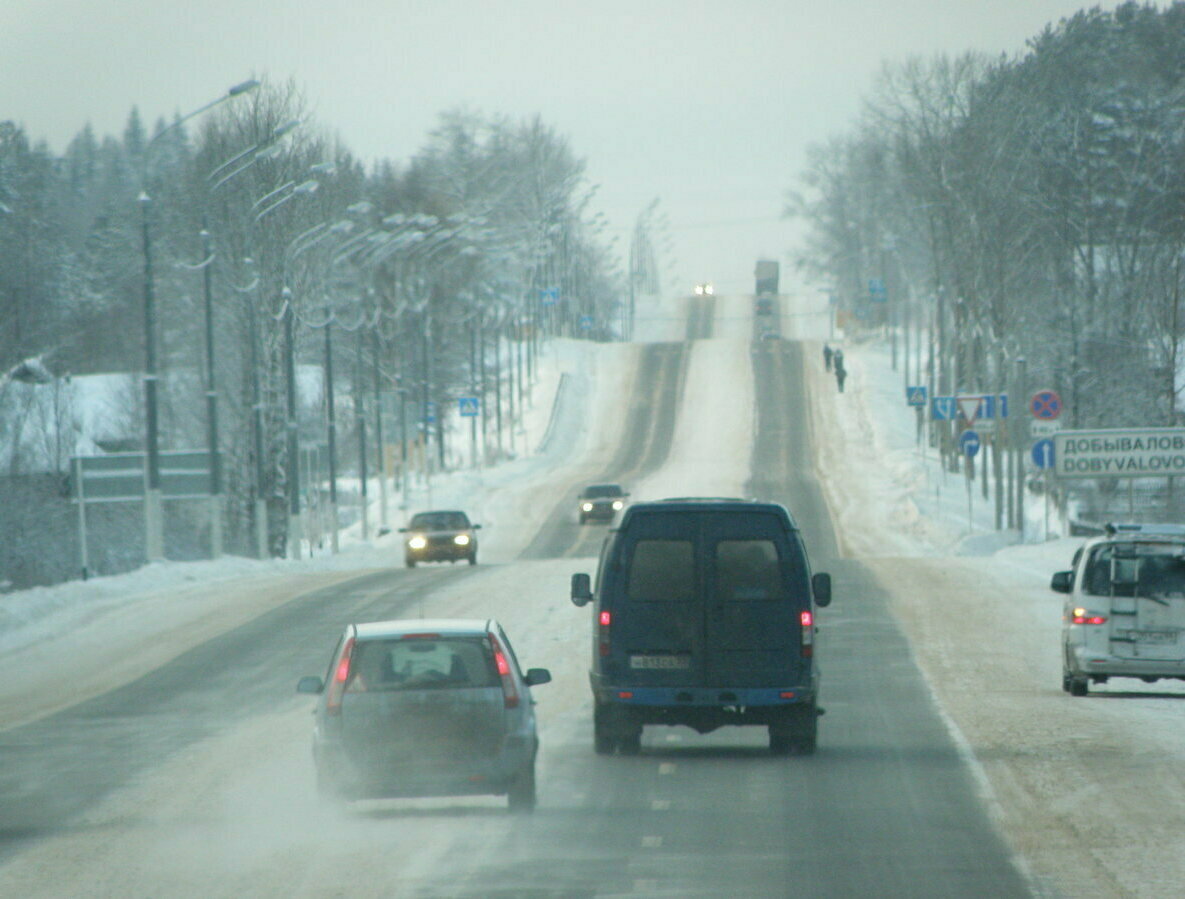 Just a normal winter road (try to overtake someone and not lose control of the car)
Documents for Driving in Russia
The first thing you need to check before coming here is your International Driving Permit (IDP). Please, take your foreign licence. You should also have vehicle insurance (that works in Russia), and proof of vehicle ownership. It's also good to have a passport with Russian visa with you. DO NOT leave papers inside the car. Never!
You should also carry the following: a warning triangle, first-aid kit, and fire extinguisher.
Traffic Rules for Driving in Russia
Dipped headlights must be used during the whole day

Wearing seatbelts are mandatory for all passengers

Driver can't talk the phone when driving (only with hands-free kit)

Car plates must be clean (in reality, the car might be dirty, but plates should be clean)

Children under the age of 12 should have a child seat

The minimum driving age is 18 for cars, 16 for motorcycles, 20 for buses

DO NOT cross a solid double white line

Turning right or left at a red light is not allowed when there is no special green arrow traffic light

Traffic at roundabouts has priority to drive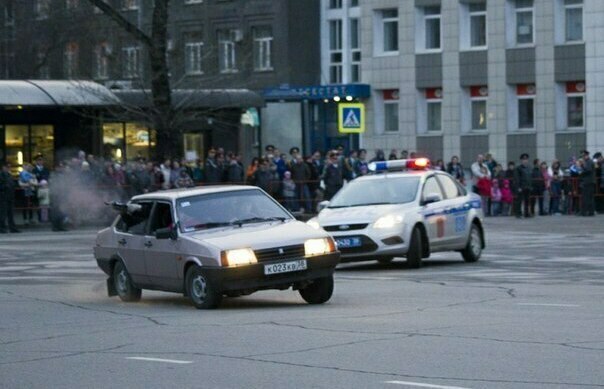 Drivers of rusty old cars often break the rules. Avoid them.
There are some official speed limits in Russia (see below). It's interesting that no one follows them :) In reality, you may drive +15 kmph. For example, if you drive in Moscow, officially you should drive up to 60 kmph, but in reality you may drive up to 75-80 kmph. If there's road police, please, do not drive faster than the speed limit or they may stop you to talk :)
Why? We have no fines at all for exceeding the speed limit for up to 20 kmph. Moreover, for exceeding the speed limit for 20-40 kmph, you could be fined for… 500 RUB (less than 10 USD). So many people do that, don't be surprised.
Remember,
road police in Russian are NOT allowed to ask for cash
. You will get a fine that should be payed via your bank!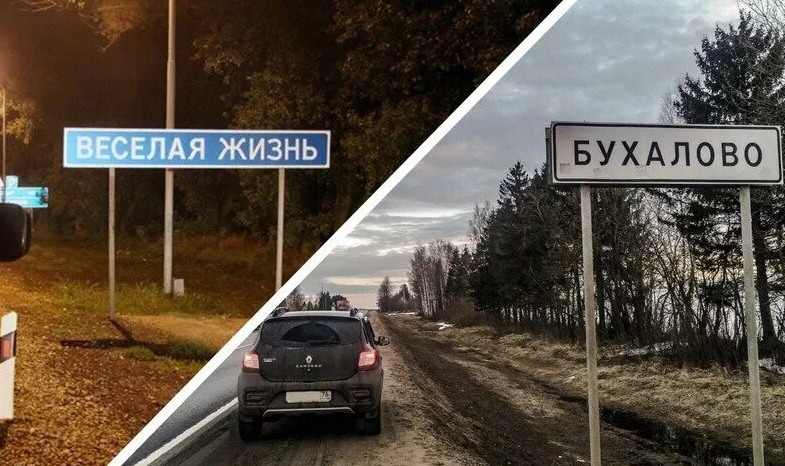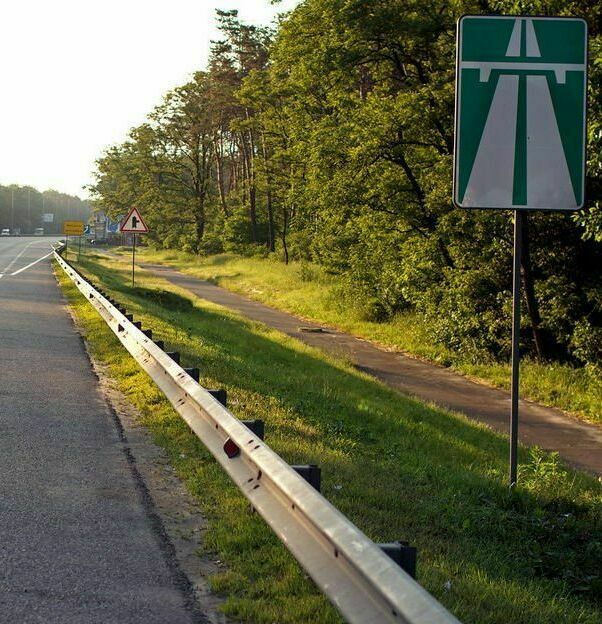 White background, black letters... it's a town! The legal speed limit is 60 kmph (in reality, it's up to 80 kmph without a fine)

Blue background, white letters... it's a settlement! You may drive legally up to 90 kmph (as a normal intercity road). In reality, you may drive up to 110 kmph.

Intercity roads: 90 kmph (in reality, it's up to 110 kmph without a fine)

Highways have 130 kmph limit (green sign at the right picture)
In Russia, you may find both European-style highways and dirty roads full of potholes. Most roads between cities are of excellent quality. However, there are millions of roads between small towns that can be bad. I remember how we drove 80 km for 4 hours somewhere in Karelia in our UAZ Bukhanka. Horrible experience!
The second option is to use Yandex Navigator. Yandex is a Russian Google. It provides millions of wonderful services from taxis to blogs. Yandex Maps are the best maps to use in Russia. Yandex Navigator shows are there roads with potholes on the way.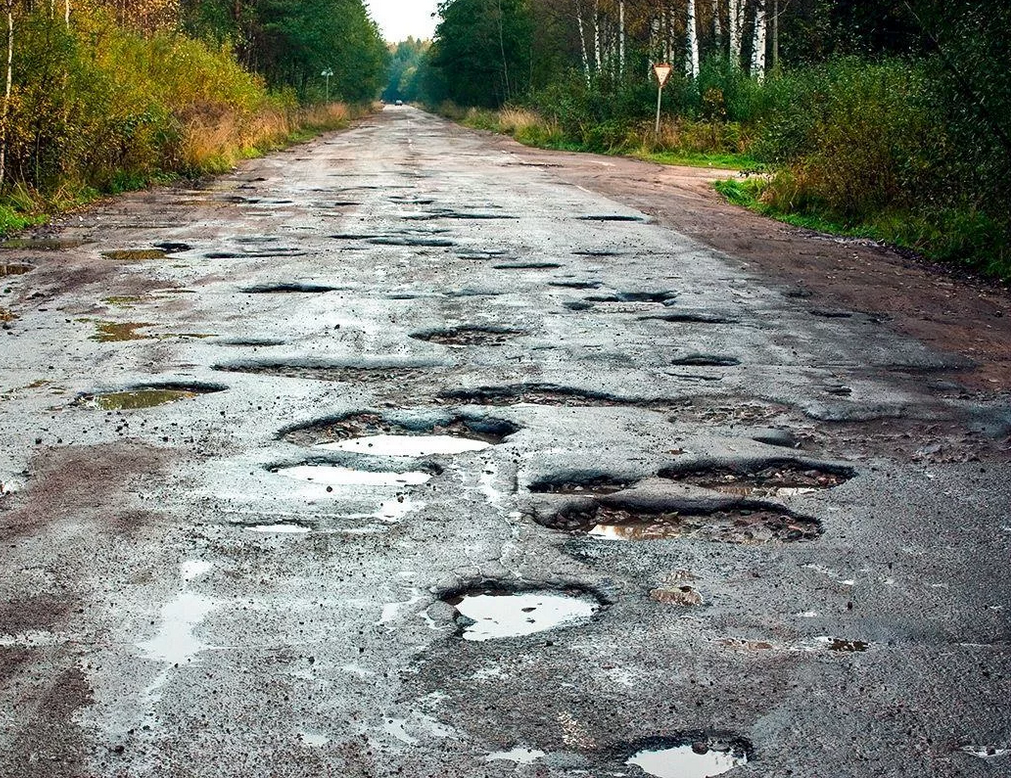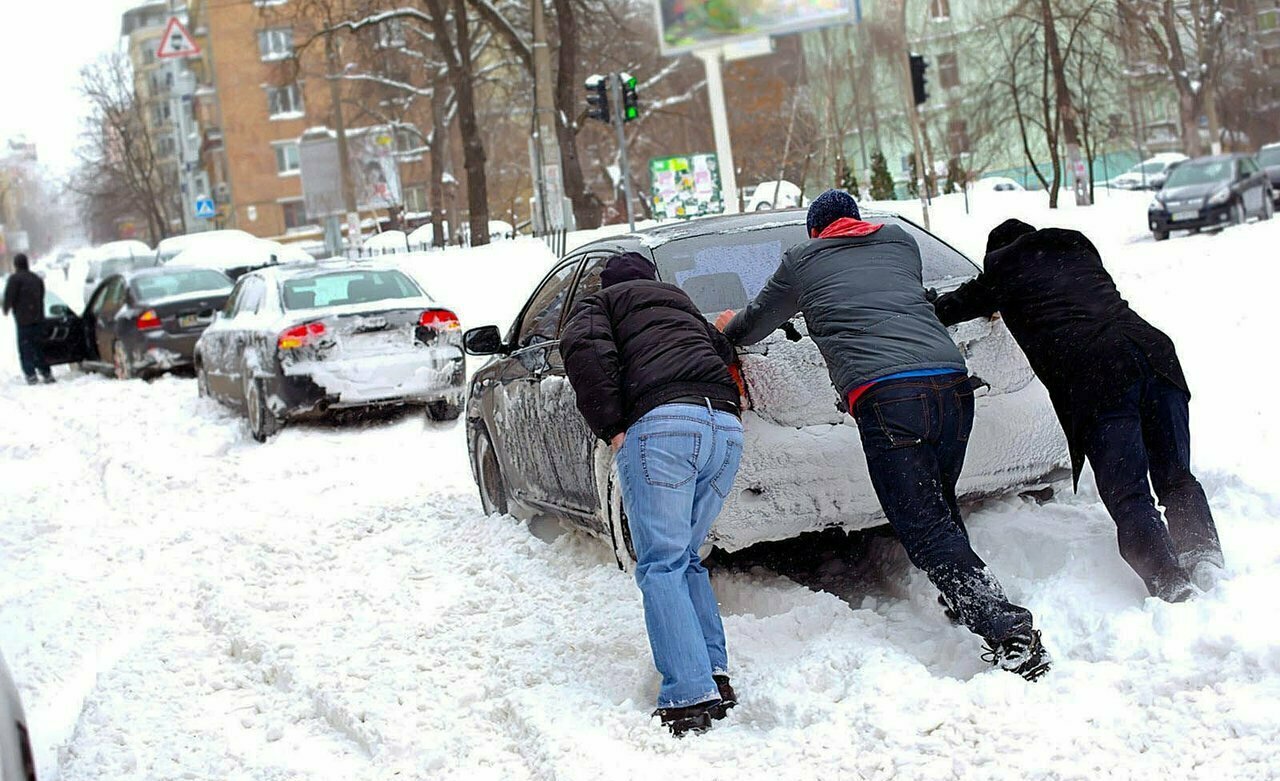 If you travel to Russia somewhere from September till May, you should be seriously concerned about your tires. Please, do NOT use your all-season tires in Russia! The best choice is studded tires, they are allowed to use in Russia. Such tires will greatly help you on the snowy and icy roads. Drive carefully when the temperature falls below 4 C degrees! Even Russians have many accidents when the first snowfalls.
Remember to keep in your car a good snow brush, a defroster for locks, and anti-freeze liquid.
Fuel in Russia is cheap with fine quality. It's easy to find a European-style gas station with excellent fuel in one of the Russian highways. But if you travel far away from civilization, you should pay more attention to it. We also have some special features like "winter diesel". Cyrillic letters are another challenge for travelers :)
How to choose a gas station
We have several chain gas stations, they all look nice, bright and have a small shop inside. The most popular are «ЛУКОЙЛ», «BP», «Газпромнефть», «Трасса», «Роснефть» and others. Such places are great and easy. They always accept credit cards, all staff is modern, employees are used to Europeans.
If you drive small roads, you may find a lot of small gas stations that may be weird and old-schooled. Some of them look dirty and primitive, they may accept only cash. In the remote areas, it might be only several cargo containers with pumps. Sometimes fuel is perfect there, sometimes normal, sometimes it could stop your engine forever. Use them if you have no other options… usually, everything will be OK.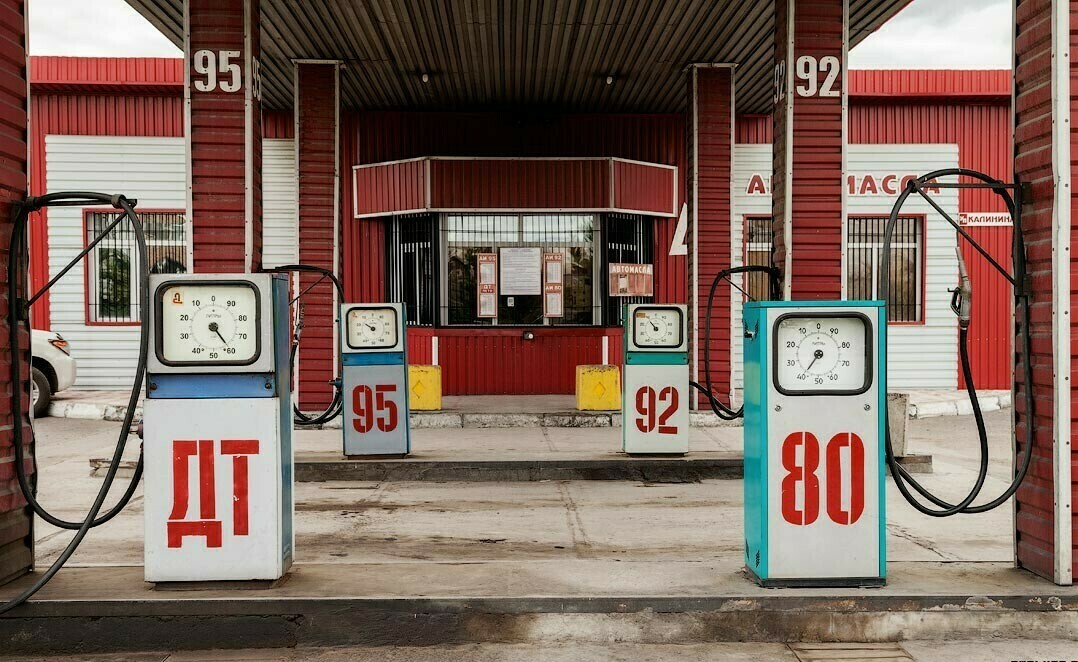 Diesel (ДТ) and three types of gasoline (choose 95) at the rural gas station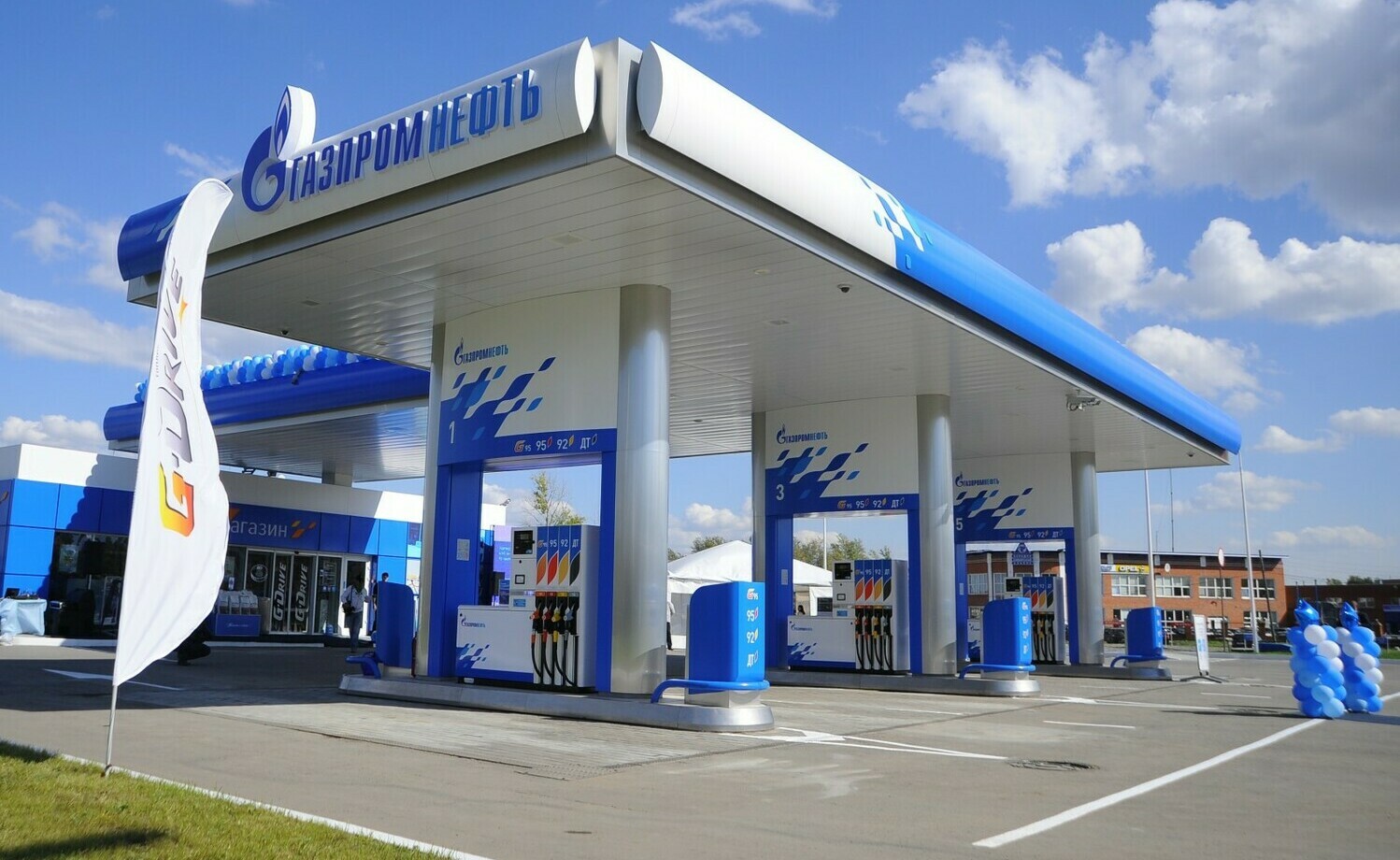 Modern gas station with shop, toilet and good diesel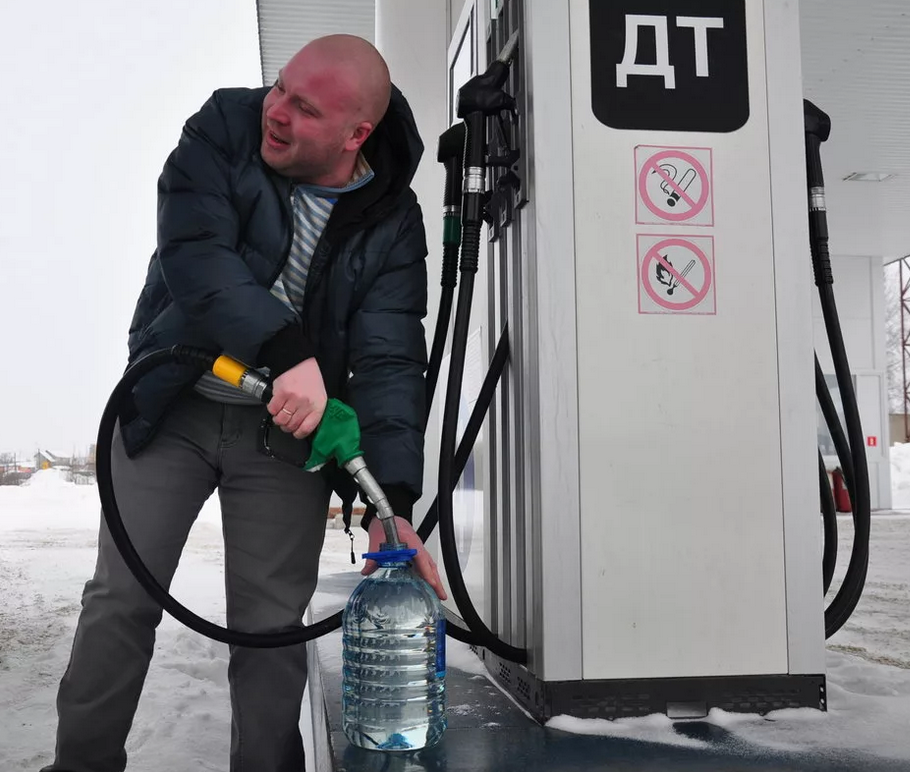 You can legally drive in Russia with canisters, no limits. In the country, you may drive for 100-200 km with no single gas station. So I highly recommend you to take several canisters if you want to overland Russia.
But
usually it's forbidden to fill plastic canisters
at the gas stations, you may use only metal ones. I have 2 canisters, one metal, another one is plastic. If I fill the plastic one from the metal at the station, nobody cares. So I fill the metal one twice to fill both. No logic :)
You should find letters «ДТ» or «Дт» (Д is a Russian letter D) or «Дизель» (Diesel in Russia). If you are lucky enough, you may see just a letter «D». Usually, it's on the black background (but not always).
At some gas stations, you may see two different types of diesel… one of them is «Дт Евро», «Дт Плюс» or «Дт Ультра», it's the normal diesel fuel, it's more expensive, take it! In this case, the cheaper diesel may suit your car only if it's 100+ years old or if it's a tractor… Take care of your engine, take the more expensive euro-diesel if you have 2 options, better at the network gas stations!
You should also know that we have "winter" and "summer" diesel fuel. In Russia, you always get the right one at the good gas stations. You may have problems if you came to Russia with your diesel fuel, then the temperature felt below -10 degrees. In this case, you should NOT use your own diesel fuel. Take the special winter diesel at one of the Russian gas stations! I fuel my car at «Газпромнефть» gas stations only, but it is not the only good option.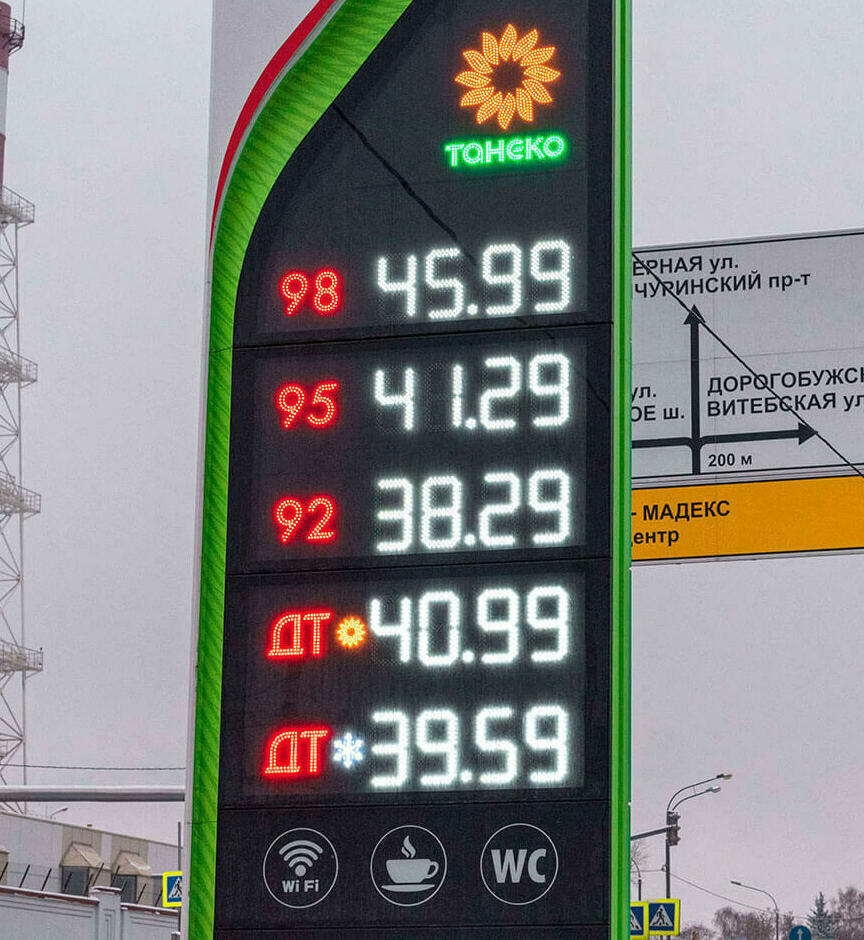 Diesel for winter and for summer (take the first one)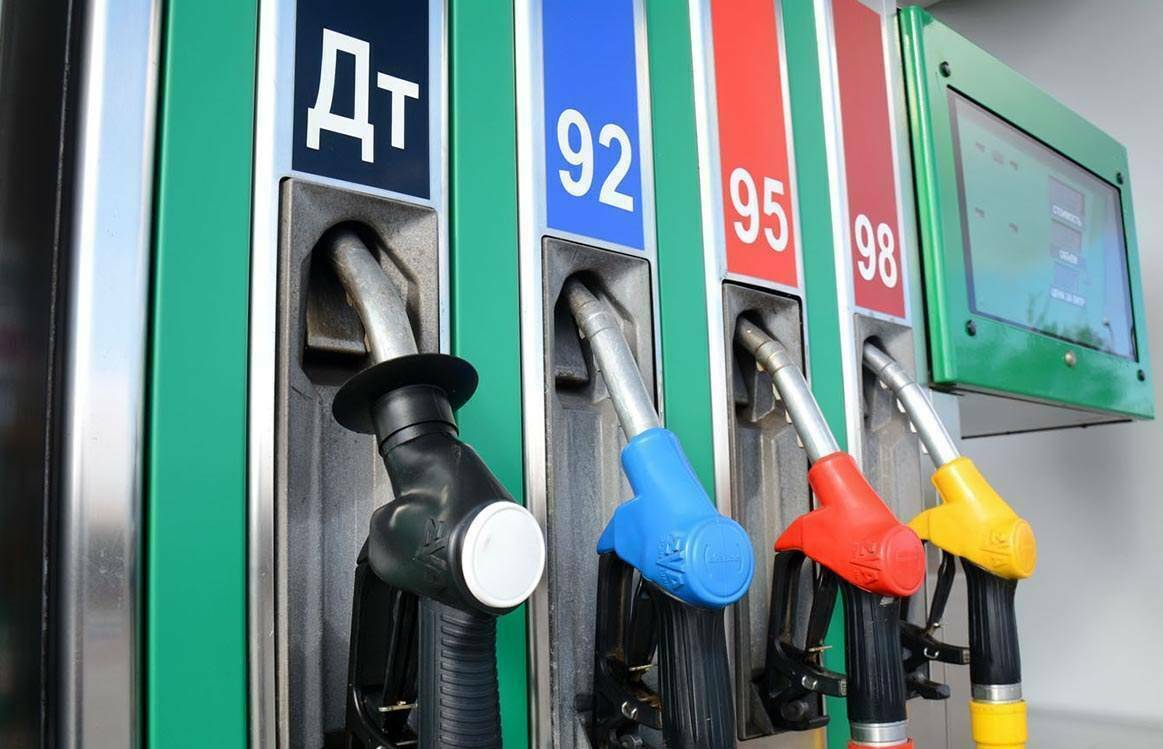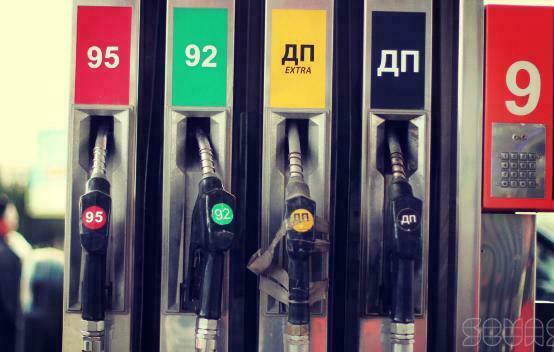 Дт is diesel. Дт EXTRA is diesel of extra quality (mmm, actually it's just better than non-extra diesel). 92, 95 and 98 are gasoline (choose at least 95)
In Russia, you may find gasoline with different octane ratings at every gas station. If you see numbers 80, 92, 95, 98, or even 100, it's the octane rating. Sometimes you may see them as "Аи-92", "Аи-95", etc. The higher the octane number, the better gasoline is. If you came from Europe in the modern car, I recommend taking "95" or just "98" gasoline. An older car can be fueled with "92", "80" are rare, for the oldest cars with an engine that can eat hamburgers.
When you stop at the gas station, the first thing you should do is to put the refueling gun in your car choosing the right one (see above). There are special employees at many gas stations that do it for you. They ask you which fuel do you need, so just show then the right refueling gun and go to pay.
There are both gas stations with pre- and post-payment in Russia. If you put the refueling gun in and it started to work, you may go to the cashbox with no hurry. Just tell them the number of your gas stand (see pictures) and give your credit card or cash. If nothing happened, then you need to go to the cashbox telling them: i) how many fuels do you need, ii) which fuel, iii) the number of your stand then pay by credit card or cash. It's not easy only for your first time.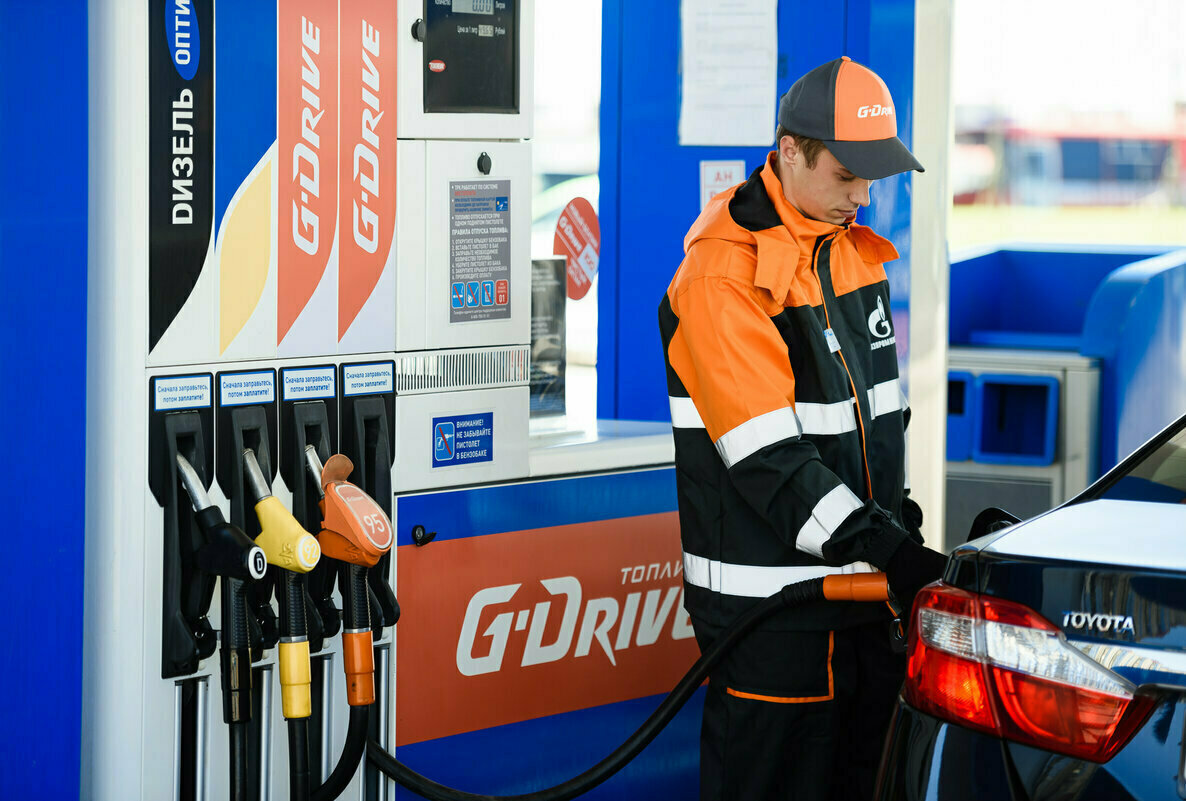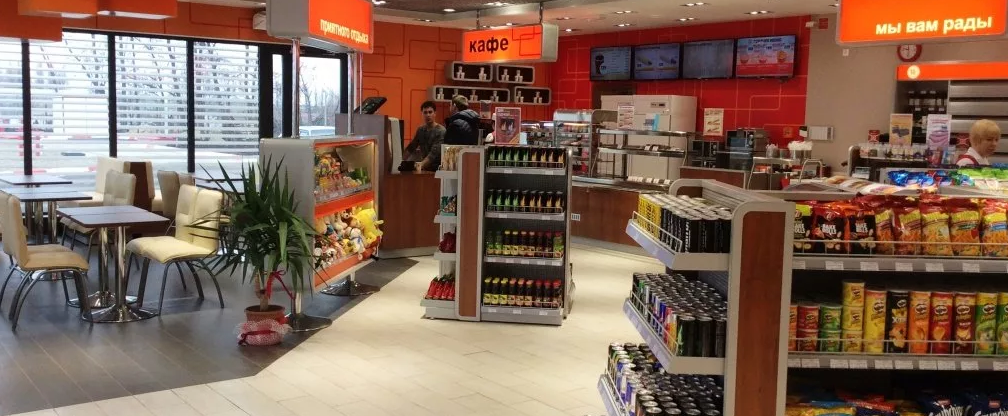 About the cashboxes... like in Europe, you may find a separate building with a shop, small café, and toilets at the good gas stations. In this case, you just go to the cashbox (standing in the line sometimes) and tell them that you need to pay for gasoline. In the old-fashioned gas stations, you may find only a small ticket window with nothing else. So it's even easier to pay there, but no options to grab a coffee and some food. 
Remember, the food is not so good and healthy there… but it's quite expensive! So any supermarket is better to have snacks.
We plan to make

a big winter Tour from Moscow to Baikal for 1-2 months by car in 2020-2021

.
We will visit many cities and villages on our way there to see the real Russia as well as make a wonderful journey in Baikal region with visiting many non-touristic sites. Do you want to join?
Email us!
First thing I need to mention that we've never had food poisoning during our trips. The rule is simple, you go inside the café and hear your inner voice. If something confuses you, just drive to another one. It might be difficult if you are a first-time traveler because you have no experience of what to expect in Russian cafes. With time, your neural network will learn how to find wonderful food by the tens of minor details. Here you will find some notes on how to find the right place during your overland travel.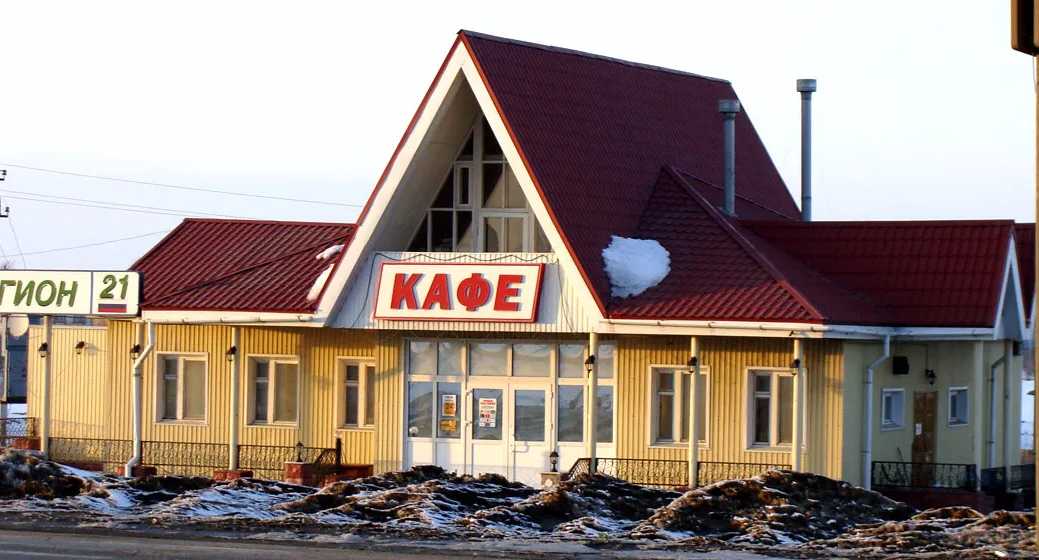 "КАФЕ" means cafe in Russian. "Столовая" means the same (but cheaper option).
The easiest way to find a good place to eat is to find a cafe with a lot of other cars, especially trucks (they know everything about the best places on the road!) So if you see a café with tens of trucks, gas station and the motel, it might be a good place to eat. 
The best way is to choose the café by its rating on
Yandex Maps
. Do not use Google Maps (or maps.me!) in Russia, they do not work well. Just choose the "Restaurants" menu and then look for cafes with at least 4 stars and some reviews (that can be translated). 
The problem is that there are roads with no cafes and gas stations for 100-200 kilometers, even in the European part of Russia! Here, you may visit small towns near the road but remember. In such towns, cafes work till 8-10 p.m.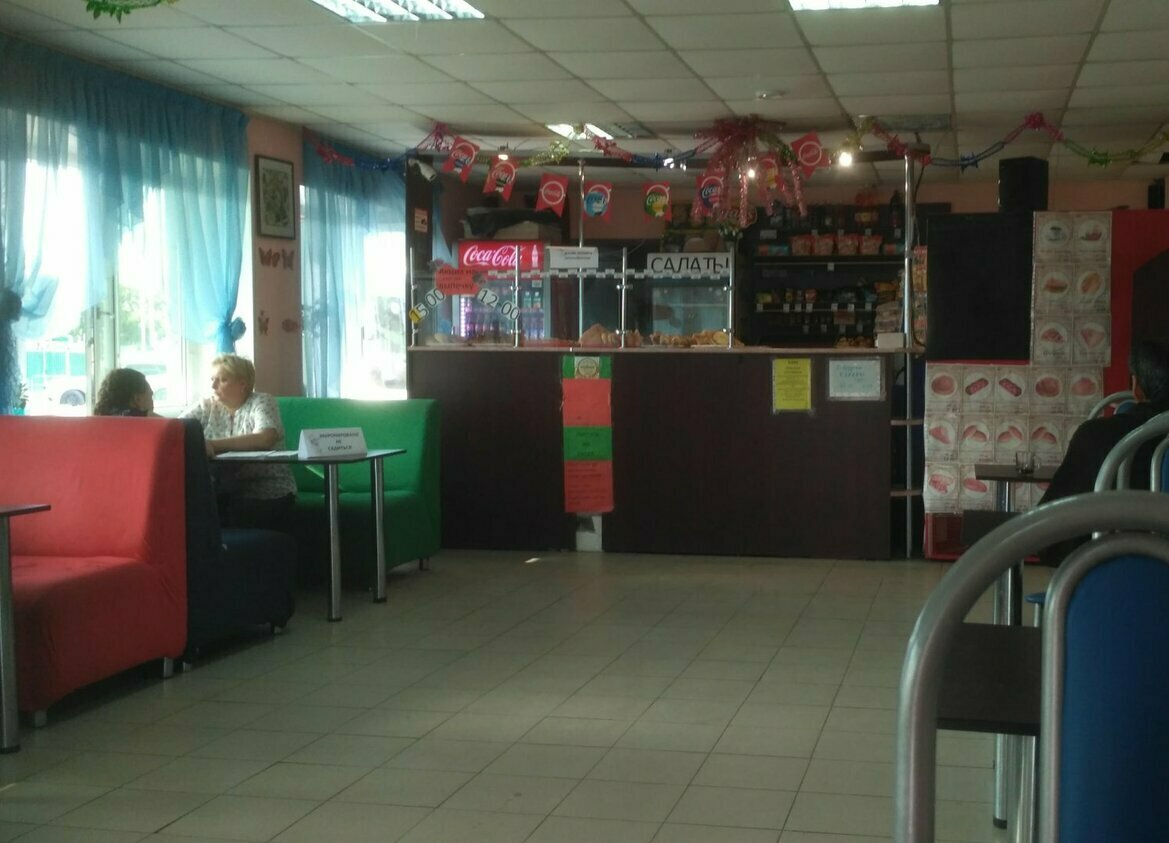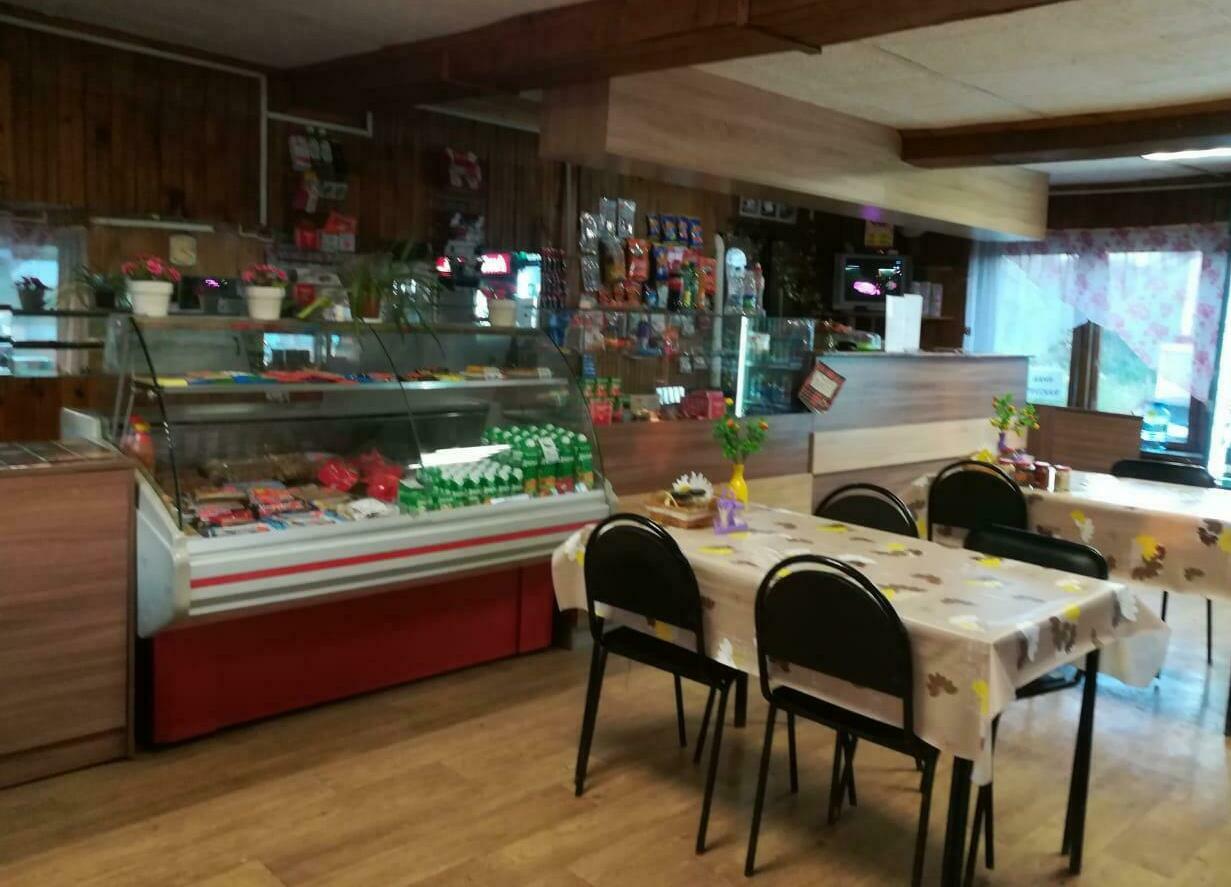 Just some normal road cafes. Both might be aweful or magnificent :)
How to understand that the road café is good?
First, café in Russian is «КАФЕ» or «кафе»! The restaurant is "Ресторан"! It's easy to read in Russian if you know letters :) «Столовая» is another type of cafes (soviet-style).
It depends on the region and the road you travel to! If it's Moscow-St. Petersburg highway with lots of cars and trucks, the good café will be like the European one. 
If it's the deep countryside and you see the first café for the last 100 km… well, in this case, the café interior might look very simple with plastic chairs and plates of distinct styles. But it means nothing! Pay attention to how clean the place is. Does it look comfortable or not? The smell, it should be tasty and fresh. You may also look at the plates of other people, the meals should look good and fresh. If you see old food standing on the vitrine with prices written on the piece of paper… well, maybe it's better to find another place. 
Look at
these photos from Google
, this is our favorite cafe on the way from dacha to Moscow. It's not cheap, but very good.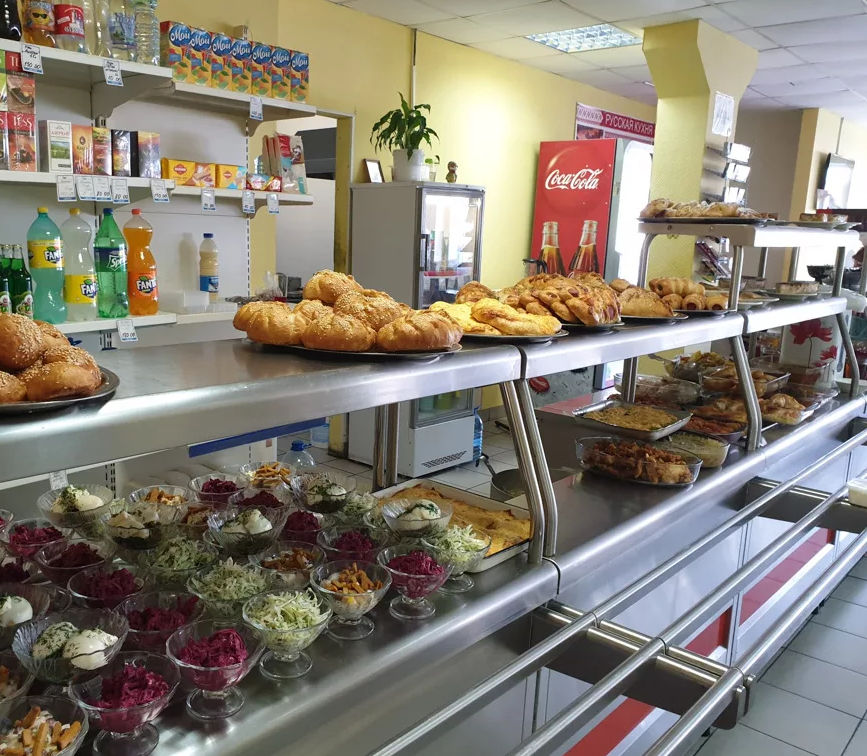 Do not worry, it's normal in Russia. Just look at the dishes, are they fresh? Usually yes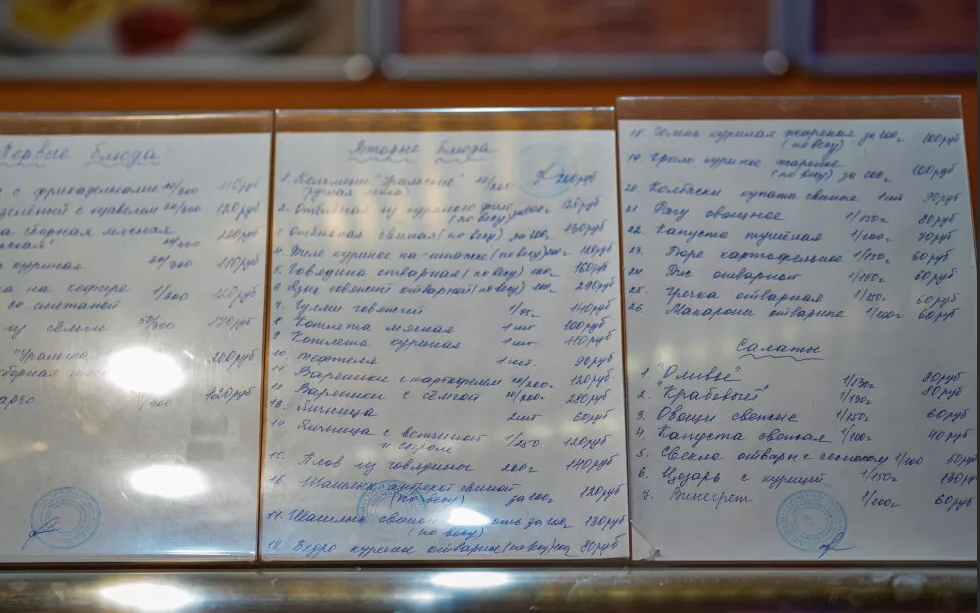 It's a menu! Looks a little bit weird, but it's a normal way for some remote regions of Russia. Such menu does NOT mean that the cafe is bad!
About the Menu and How to Pay?
When you enter the café and it seems good, just go to the table of the hostess to see the menu. In most cases, you make orders just there. Do not seat and wait for a hostess to come… the normal way is to get inside, take the menu, make an order, and then pay (sometimes you may pay after the lunch). 
Be ready, you rarely can order any dish from the menu. Sometimes only 30% of the menu is available to order! Most menus are in Russian only, and there are no people speaking English nearby. However, there are several "classical" dishes that you may find almost everywhere! You may read more about normal Russian food in this article.
Today, in most cafes you can pay by your credit card (even in the middle of nowhere!) But don't count on it, take cash as well!
If it's a normal café somewhere along the road, no one leaves tips. What about prices, I always look at the borsch price (you can find it almost everywhere!). The normal price in the road café is about 100-120 RUB. If you travel far away from the civilization, you may find borsch for 50 RUB and that's OK, too. If borsch costs 200+ RUB, you are probably in a small restaurant or "luxury" café that tries to be like a restaurant. It's great to grab food here if you have money, but sometimes you need to wait for too long.
In the simple road café, you may spend about 200-500 RUB / person (e.g., 100 RUB for borsch, then 200 for meat with a side dish + 100 for tea with some sweats + 100 for salad). The restaurant price would be about 500-1000 RUB / person. Remember, the Moscow – St. Petersburg highway cafes differ from the normal Russian road (service is better, prices are higher, a lot of cafes on the way)!
If you came from Italy, France or Spain, please, don't take coffee at the road café not to be so disappointed. The «normal» coffee in such places costs for 30 RUB ( 0.5 USD) and is 3-in-1 coffee that only sounds like a coffee J Take a hot tea with lemon and sugar!
AirBNB and Booking work fine in Russia! Don't forget to check out your check-in time if you will arrive late. In the evening, it's difficult to find someone work, so be sure that the host is waiting for you.
When we're road tripping, I rarely know where we will spend our next night. So road motels and small hotels are often my choices. They are so different! You may find a cheap and perfect place with great service or… opposite. So I recommend reviewing the hotel ratings before stopping for a night. If you drive in remote areas, there might be only a few hotels, so it's IMPORTANT to have several options where to stop for a night IN ADVANCE! It works even in European Russia. Just try to find good and cheap hotels and cafes along the Riga – Moscow highway :)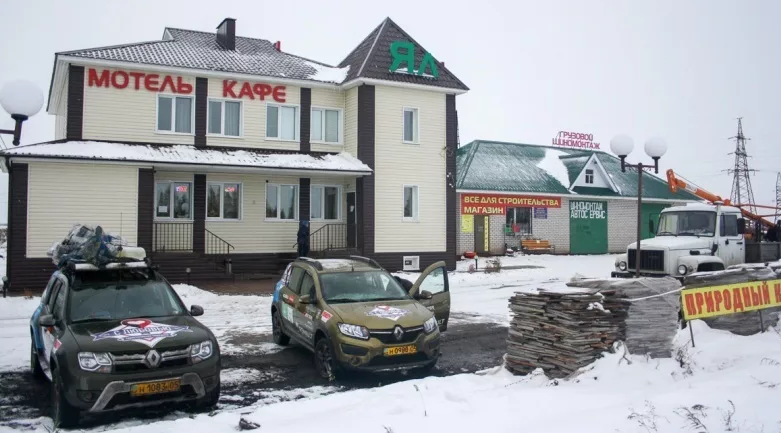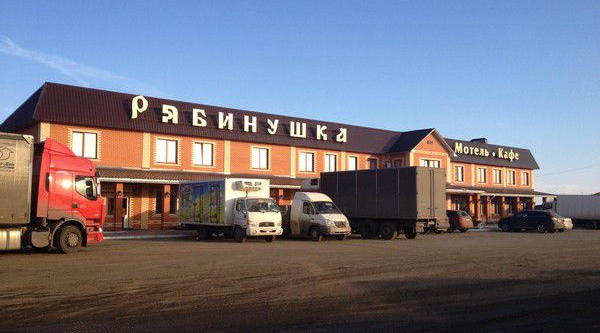 Two different motels and cafes. The second one is better cause there's a new builting with a lot of trucks nearby (they know where to sleep and what to eat).
European-style auto-campings are
RARE
in Russia. Do not count on them! So parking your van and spending the night inside or in the tent nearby would be the single option if you don't want to stay in the hotel. It's safe and comfortable. Just find big parking with a lot of trucks along the highway and spend the night in the car. There are often normal toilets and a shower for a cheap price and a café at such places. What's even more important, it would be safe. 
It's great to learn some words in Russian (see the picture at the right). "Стоянка" means parking, "СТО" means garage, "Кафе" means cafe, "Душ" means a shower, "Шиномонтаж" means tire fitting. Perfect place if you want to spend the night in your van.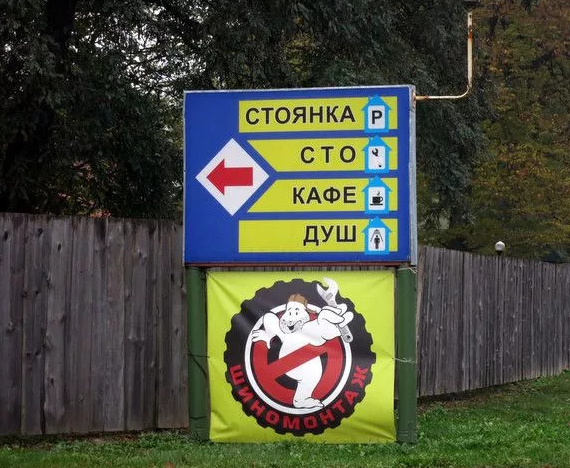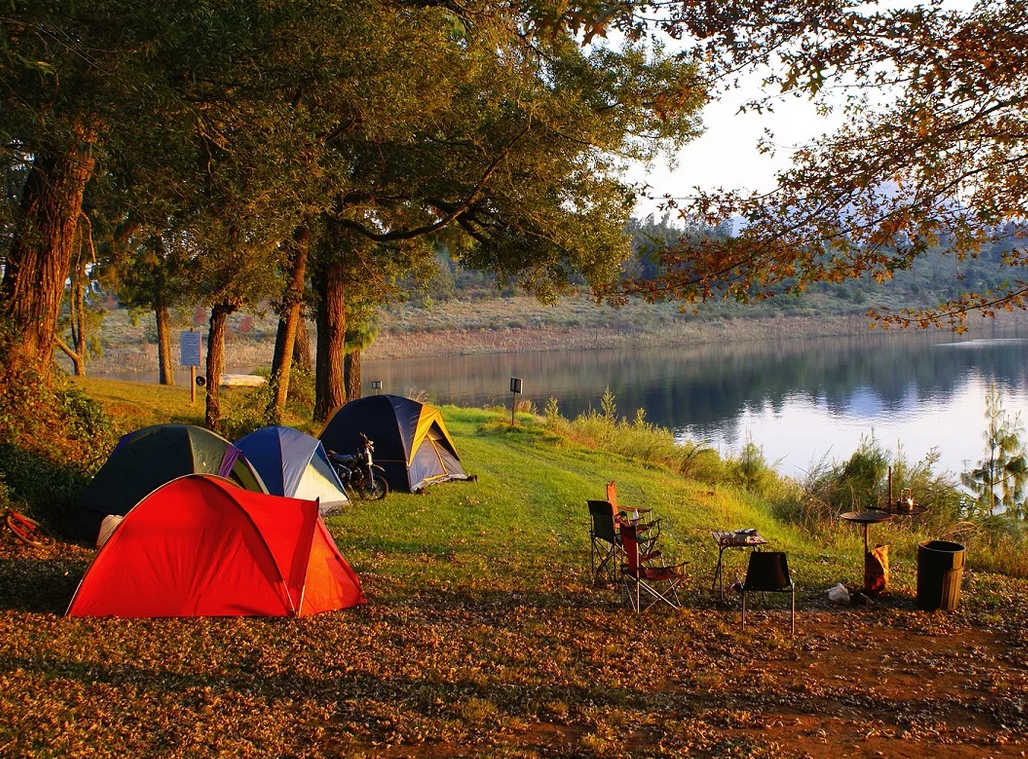 The major camping rule that there are no camping rules :) Russia is the enormous country with a lot of forests and fields, so you can camp almost everywhere. But choosing your place for camp might be not so simple! 
You should take into account the safety rules. The important thing is to camp safe from other people and animals. I prefer nice open places on the bank of rivers or lakes that are not so far from villages and people to feel safe, but quite far not to be disturbed. Just find some minor dirt road and drive 5-20 minutes from the highway. Russians love to spend time with times on the bank of lakes, so it's easy to find a comfortable and nice place for camping. In most touristic areas, it's possible to find a guest house with a camping option (where you can live in a tent for a cheap price).
Driving & Parking in Moscow
You may find the official information about parking in Moscow
here
.
«Moscow Parking» Website / Mobile application is an excellent way to pay for parking. I usually use SMS to 7757 with a parking lot number*car license plate*number of hours (e.g. 1004*А123АА199*3). You do NOT need any paper tickets on your car. 
Remember, Ticket for unpaid parking: 2500 RUR. Ticket for on-lawn parking: 5000 RUR. Ticket for parking in slots for low-mobility citizens: 5000 RUR (about 70 USD)
Another problem in Moscow is to find parking. It's much easier here than in Barcelona and many other European cities! You should use
Yandex Maps
or
Moscow Parking Mobile application
to find the parking with available places for your car and its costs.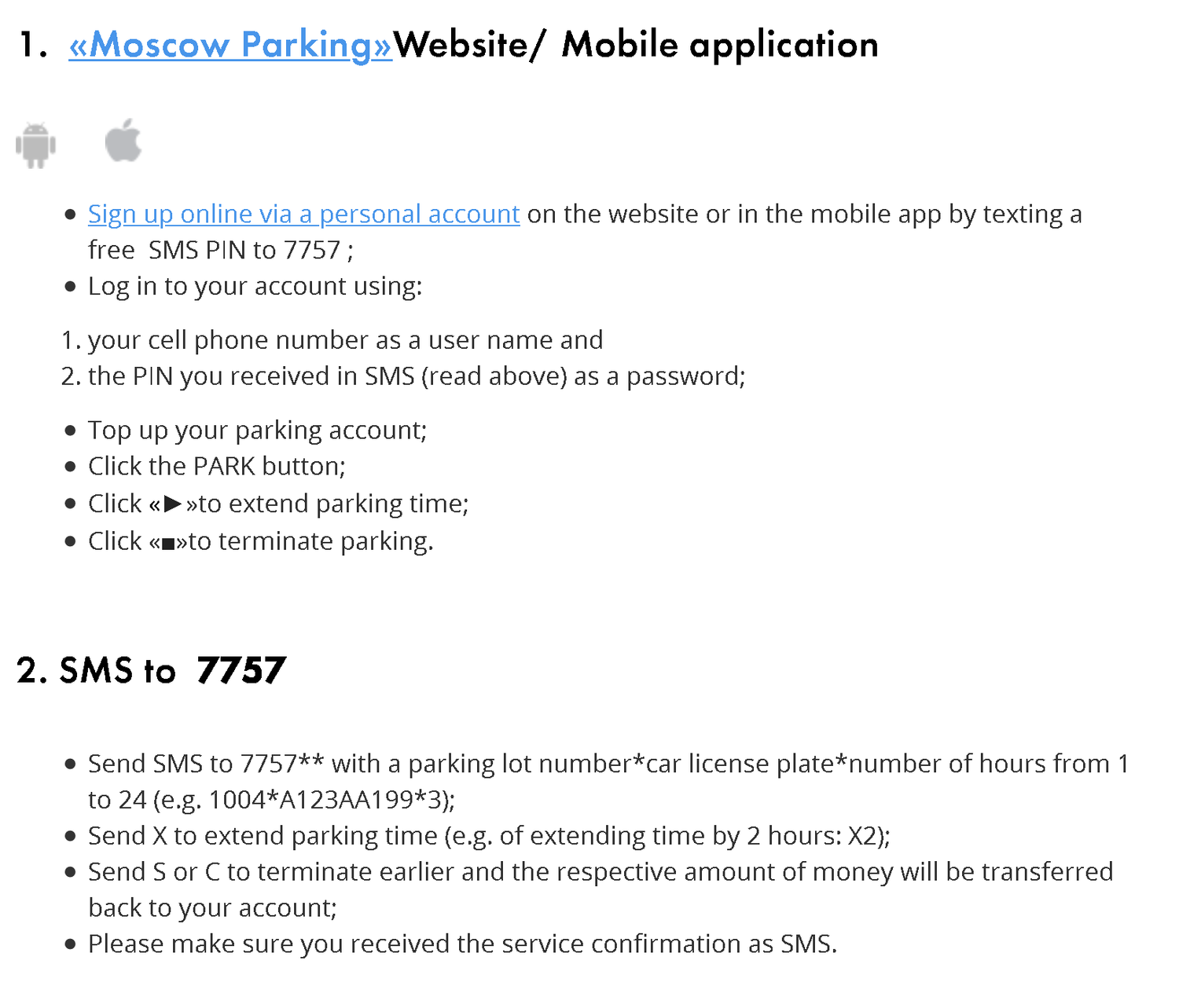 Information from the official website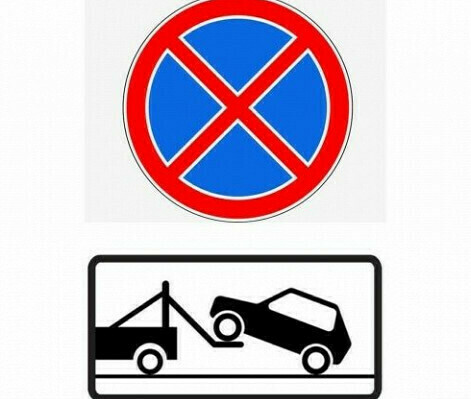 Still a sad story for foreigners! In Russia, it's enough to leave your car for 15 minutes not to find it again. Many tow trucks in the center work fast and well. So if you see a road sign that forbids parking… don't stop at this place. The second option is to leave the person inside the van if you can't find the parking and need to move away for 15 minutes.
What's the problem in your car got towed? If you speak Russian, you need to call 112 and ask about your car, then you go to the towing parking and wait in lines trying to get the car back. If you are lucky enough, it takes several hours. If not… you may spend the entire day or two (if you speak Russian!) Should I say that it's a VERY challenging task for a foreigner? However, I just found this
official website
where you can search for your vehicle at a tow pound.
Don't stop your car where it's forbidden. If you need to stop at such a place, leave a person inside the car. If your car got towed,
search for your vehicle
at a tow pound. Then you may call Tony and ask for help.
Don't leave your papers inside, it will make the process even worse cause you will need to prove that the car is yours.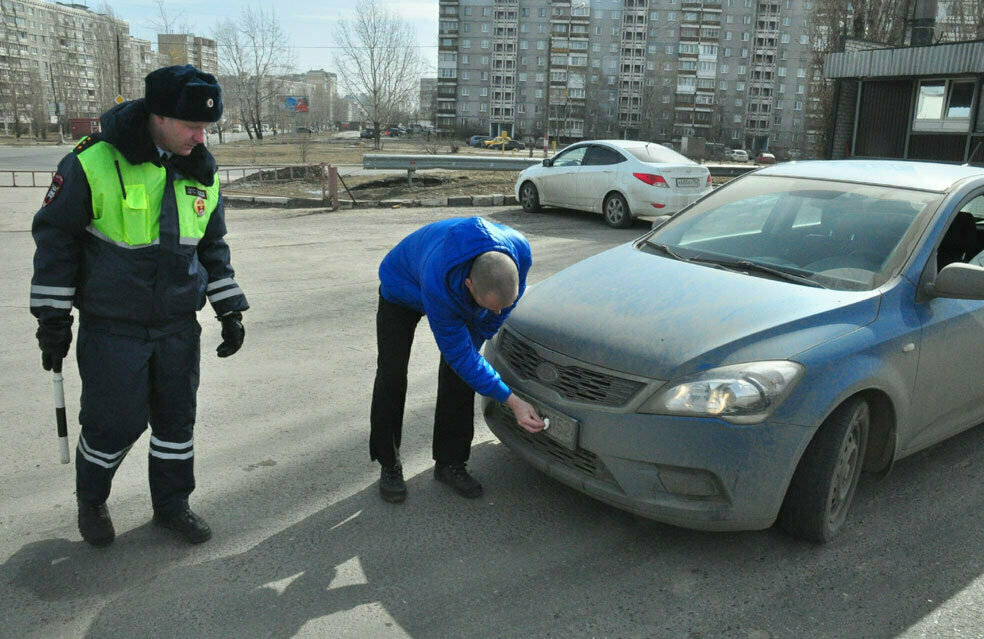 Washing Your Car? No, only plates!
People that come from Europe are used to keep the car clean. Good news, everyone! It's unnecessary for Russia! The single thing that needs to be clean is your car plates. They must be readable.
Seems easy? In autumn and early winter, it needs one hour of driving to make your car totally dirty! So be ready to clean up your plates regularly. If the road police stop you with dirty plates, you will be fined for up to 5000 RUB (about 70 USD) or ban your driving license for 1-3 months. 
You may also love other Tours from Moscow:
This is is a very unique off-road Russian minivan with sturdy axles, solid frames and a robustness built into everything. This vehicle was designed in the 1950s as a support vehicle for military forces. It is still being produced today as it was sixty years ago… And, surprisingly, it looks almost like it did in 1965! Driving it on typical Russian mud road will make you feel like a real Russian!
For a second part of our adventure, you will visit a network of underground limestone caves with an experienced caver guide. Depending on your adventurism, you can either wander in some easily accessible and beautiful cavern halls or you can search the depths of remote parts and the most challenging kilometers of a lengthy underground network!

Finally, after a long day of exploring, you will have a lovely meal of our traditional food and enjoy a blazing campfire.

Duration:
8-12 hours
Golden Ring of Russia for 4-7 days

During first days we will visit all must-see place in Moscow. Whether you're looking to visit medieval monasteries, historic houses, stunning cathedrals, soviet monumental skyscrapers, wonderful parks and more, there are plenty of landmark destinations to visit when you're in Moscow.
The next 2-3 days we will see life in the typical Russian provinces visiting small towns of the famous Golden ring of Russia. It is a ring of ancient towns, which also played a significant role in the formation of the Russian Orthodox Church. They still preserve the memory of the most important and significant events in Russian history.

The towns are one of the best places to visit in Russia! They have been called "open-air museums" and feature unique monuments of Russian architecture of the 12th–18th centuries, including kremlins, monasteries, cathedrals, and churches. You will also see a lot of rural Russia with its old wooden houses and traditional villages.