Adventure tour: Ice caves in Russian North (April 2018)

This April. Two weeks. Ice caves. Winter roads. 550 USD. Russia

Explore what others only dream about!
Highlights
>> Unique ice caves of gypsum karst region
>> National Park with pristine forests, clear lakes and waterfalls

>> Traditional Russian village
>> Unique museum of wooden architecture

>> Real Russian countryside "off the beaten" tracks

>> Many-days 4x4 adventure trip with many winter roads

>> Ice crossing of 3-km width North Dvina river

>> Cold, snow and ice of real Russian winter

>> Northern lights (if we are lucky...)
>> Millions of photos and unforgettable experience
About the Pinega nature reserve
Our Ice cave tour will take a place at the Pinega nature reserve during April 2018. This place is located about 1500 km from Moscow to the north, only 200 km from the White Sea. The nature reserve was created to protect natural landscapes: swampy flatland, hilly plateau, and the karst caves. Whereas the first two are somehow typical for Russian North, the karst is unique here! There are more than 500 caves, ravines of many kilometres long, and karst lakes in Pinega area. Two of the creeks vanish below the earth, with one of them reappearing after 5 kilometres at the side of a ravine...

The nature of Pinega reserve was untouched by people until the 20th century! There were no wars, no large settlements except the traditional Russian village Pinega, no agriculturul activities. There is the only one winter road to the Pinega reserve. And pristine forests, ice caves, clearest water and northern lights. The area is unique for its gypsum rocks forming all these caves and cliffs. Amazing places for all kind of ecotourism!

Despite the unspoiled natural landscapes and the beauty of the ice caves, this place is off the beaten tracks even for Russians. And we have never saw any foreigners there... Only local tourists!

This April we will travel all Russia from Moscow to see the natural wonders of Pinega Ice caves. You need no special training to join cave expedition, just adventurous spirit and love of nature. Be ready to feel some minor discomfort because of the cold, long trips and crawling in caves. It's worth it!

Plans for 10 day trip:
1 day: the road from Moscow to Yaroslavl, 3-hours excursion in Yaroslavl, the road to Velsk, hostel there
2 day: the road from Velsk to Archangelsk (White Sea and North Dvina river) and then to Pinega.
3 day: acclimatization at Pinega, first cave for 3 hours and light trekking to observe the nature

4-5 day: visiting the most beautiful Pinega caves and nearby ecological routes
6 day: excursion into the wilderness of Pinage national park, to the canyon of Sotka River, "banya" (bathhouse)
7 day: the road to the north to the one of the most beautiful Russian villages - Kimzha

8 day: the road back to Archangelsk, visiting the unique open-air museum of wooden architecture, night in hostel

9-10 days: return trip to Moscow, night in Vologda hostel
Previous ice cave expedition: April 2017
Our last year's adventure tour to Pinega ice caves started from Moscow. After 4-hours fitting of all our bags into the van, it finally accepted its regular features of mobile home. Ready to take off! I have no words to describe how cosy I feel spending time in the middle of several sleeping bags and watching the endless winter road through all windows of our van. There are a lot of place inside the van. You can crawl, toss and turn not disturbing other passengers. VROOOM-VROM sound of the UAZ engine and muffled talks of driver make your sleep sound. In one moment, all your problems hid in the corner of your subconsciousness. In this meditative state, we travelled all Russia and finally arrived at the beginning of nowhere near the Arkhangelsk town.
We bought a lot of food and stopped by the last gas station for many hundred kilometers ahead to fill up our cans. Next 200 km to Pinega were VERY bad even for Russians – too much pits of all sizes and depths! It was very loud inside the UAZ van. When it was designed, people needed just an offroad van to support military forces in the deep corners of Russia. Surely, they did not think too much about people's comfort. That's why even small pits made the van roaring, moaning and rattling. Only Rammstein music could accompany such sounds, so we made it louder and went on. At few stops chaos of moving was finally staggered with cold silence of Russian winter. Bible black and billiard of stars surrounded us in the middle of northern wilderness pushing minds to all kinds of philosophical thoughts. Then again Rammstein, roaring engine and narrow ice road with navigation signs (yes, it is a waterway in the summer!) We arrived at traditional Russian village of Pinega about the midnight.
Pinega nature reserve is a kind of the heaven for nature lovers! However, instead of palm trees and warm breeze you should enjoy evergreen pines and chilly wind from New Earth islands… But does it make difference in the age of modern technologies and warm clothes? We went there in March, so there were NO -40C degrees and polar nights. In the contrary, we had about -5C, a lot of sun, bright white snow and very long days. We walked in snowshoes between all these gypsum cliffs and canyons, climbed into ice caves and watched how the spring slightly changes the nature… Such an amazing activity to feel the Russian winter!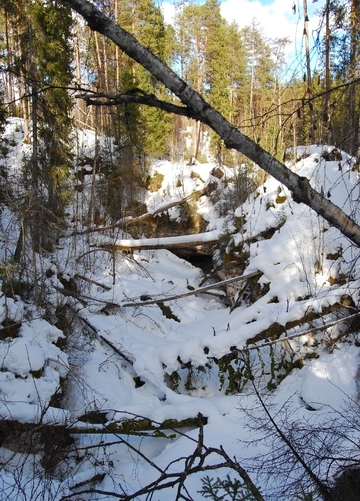 There are two types of accommodation in Pinega. First, you can stay at the quite good hotel with all facilities for about 2000 RUB/night. Second, you can stay at Nature reserve old houses with only weak facilities for a cheaper price. Surely, we decided to support the reserve because it had no funding for many years (Russia, sweet Russia…) Their houses were old but warm and cosy, we enjoyed them so much! If you are first time in Russia, you will also have a lot of fun of traditional Russian toilets. Using them in the cold winter morning is the task for mentally strong people only :) But if you are one of these guys who are dreaming about Antarctica or North Pole, it will be not challenging at all!
The closest ice cave was located in the amazing gypsum canyon 5-minute walk from the house. Other caves were scattered all over the reserve area. We visited two caves in a row some days! Actually, they are not ice, they are karst and made of gypsum. However, in winter, ice crystals cover all walls and ceiling making caves look like you get into the Ice Kingdom! What about ice, we saw every possible state and shape of ice there! There were frozen waterfalls of ice reaching several meters height, ice rivers and creeks, ice stalactites and stalagmites, crystals and snowflakes. These caves are heaven for photographers especially if you have experience of shooting in the dark. What about cave exploration, you can search for new ice caves from the surface or try to find its continuation from the within.

On our way back, we spend several hours to visit unique open-air museum of wooden architecture "Malye Karely". We have already seen such museums but that was probably the best one. We saw a lot of peasant wooden houses, churches, and windmills of hundreds years old that were collected all over traditional villages of the Russian North.

Overall, this was one of the most magical cave expedition I ever had. We spent a week there but I still love to watch millions of photos to remember each tiny details of such a great trip!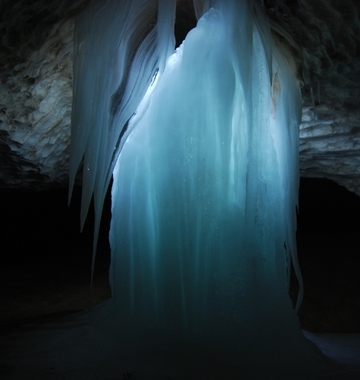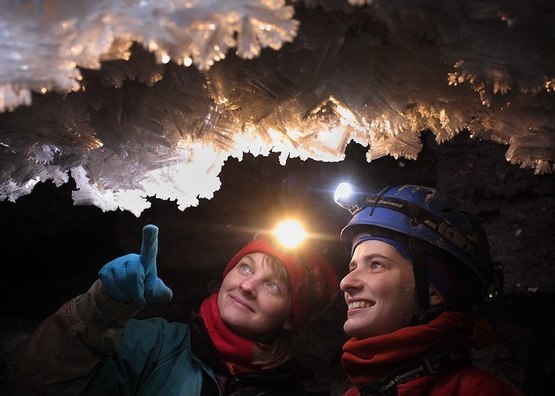 DON'T WAIT FOR INSPIRATION. GO AFTER IT!

Duration: April 2018. 10-14 days

Price: 550 USD / pax for 10 days
Included: minivan, gasoline, food, equipment, accomodation (old houses in nature reserve with weak facilities), two friendly guides
Not included: visa, tickets to Moscow

Start point:

1) Moscow, if you want to see real Russia on our way to Pinega

2) Arkhangels, if you have no time and have money for train/airplane
Transport: "CrazyBu" van

Available seats: YES