Metro in Moscow: Getting Around the Capital

The Moscow subway system or Metro is the cheapest and fastest way of getting around the Russian capital. Metro was opened in 1935 and was the first underground railway system in USSR. The Moscow Metro was Soviet's ambitious architectural projects aimed at socialism propaganda. Numerous artists and architects worked under its interior. Reflective marble walls, high ceilings and grand chandeliers was designed to manifest the communist idea of a bright future. A lot of stations still looks like "artificial underground sun".
It has been alleged that a second and deeper metro system ("Metro 2") was designed for emergency evacuation of key city personnel in case of nuclear attack during the Cold War. It is believed to lie 100–200 meters deep for better protection in wartime. Metro 2 starts from Kremlin and goes to the KGB office, to government airport at Vnukovo and to an underground town at Ramenki. According to some data, there is also an enormous underground leadership bunker adjacent to Moscow State University that lies at 200-300 m deep and can accommodate up to 10 000 people! More interesting facts and speculations you can find here.
Opening hours
Moscow Metro starts opening at 05:30 and closes at 01:00. It means that all stations and transfer corridors close their entrances at 01:00. However, it is still possible to get around the current metro line. Last train starts from the terminal station at 01:00 and finishes about 01:30-01:40 depending on metro line.
How to get free Wi-Fi
Free Wi-Fi became available on all lines of the Moscow Metro several years ago. However, each time you will need to watch advertisment to use it. If you don't want to watch it, just download this mobile application to your mobile phone (for Android). It has more than 15000 of positive reviews, so it's OK to install it.
How to get free Wi-Fi in Moscow Metro?
Connect MosMetro_Free Wi-Fi
Open www.vmet.ro at your browser
Enter the number of your mobile phone
Get SMS code, enter it at www.vmet.ro
Open the mobile application, that's all!



Moscow metro map in English
Here you can find the map of Moscow metro with English names of the stations (click to enlarge). However, it is much more convient to use interactive metro maps. The best ones are Yandex maps, you can find both desktop and mobile versions. These maps can tell you the best route between two stations and its duration.

Information about other useful mobile applications and websites you can find here.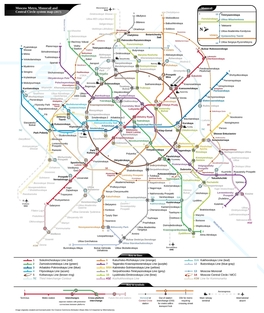 Public transport fares and Troika card
The MAIN advice: if you are going to use public transport (even once), all you need is Troika card. It is a reusable plastic card used for rides on the Metro and aboveground transport.
All you need to know about it is:
• Buy it for 50 rub at any Metro ticket office and automated ticket kiosks
• Put money on it at the same place
• The price for Metro, monorail and Moscow central ring is 35 rub (2019 UPDATE: now it's 38 RUB!)
• The price for surface transport (busses, trams and trolleybuses) is 35 rub
• The price for Metro + unlimited surface transport for 90 minutes is 35 rub
• The Troika card automatically determines the best fare for you
• You see the balance when using the card
• You can return 50 rub deposit for the card at any Metro ticket office after your trip!
• You can't quickly return money on it (it's long bureaucratic procedure…)
• Officially, you can use Troika card to buy tickets for suburban commuter trains, or elektrichka, but we do not recommend it (too complicated)
Examples:
>> You need 4 rides at Metro and 2 ride at surface transport: go to Metro ticket office, pay them 50 rub (deposit for the card) + 35 rub * 4 (for metro) + 35 rub * 2 (for surface) = 260 rub
>> You already have 30 rub on Troika card and you need 1 Metro ride: go to Metro ticket office, put only 5 rub on Troika card (the balance would be 35 rub)
August 2017