UAZ Buhanka: Technical Overview and Maintenance

UAZ 2206 / UAZ 452 / UAZ 3909
The Glorious UAZ 452 van… Funny Story of Russian military van
Обработка видео...
Bukhanka is a very special van. Some people call it ''a toy'' for adult boys, because you may play with this rusty soviet constructor forever. It's true even for new Bukhankas, they only look good and shiny, but you still need to spend weeks in your garage to turn it into a reliable car. 
Sounds strange, how people could produce such cars in the 21st century? Easy. Most people in the Russian countryside have no money. At the same time, they have both time and good auto services (in their own garages, for example). Russians buy a UAZ van for a cheap price and then upgrade it for their own needs. They do not want to pay extra money for a good look and cool electronics (just from Elon Musk). 
Buying UAZ you should remember, it's not a European-style modern car, that is nice and cozy. It's closer to a tank. Reliable enough, simple, robust, easy-to-repair in the middle of nowhere, and cheap. It's not a tragedy to leave it forever getting stuck in the peatland and buy the new one from your neighbor :)
In this article, Tony Terentev, a proud owner of a 12-years van, will share his own first-hand experience about maintenance and upgrading such a unique van!
When we got the van in far 2010, I was not too experienced in turning the nuts. I knew how the engine works from my school physics, I also remembered that all cars have four wheels at least. So, looking under the hood of my Bukhanka was kind of weird for me… stop! Where's the hood?
The first thing that you noticed in the van, it's the total absence of the hood. The access to the engine is not from the outside, it's from the inside of the van. The engine is located just between the driver and passenger seats in the front part of the Bukhanka. You may change the spark plugs not leaving your driver's place.
The proc is simple, the length of the car is normal, but you got really plenty of space inside. What about cons? It's noisy and hot in summer. Safety is not so good.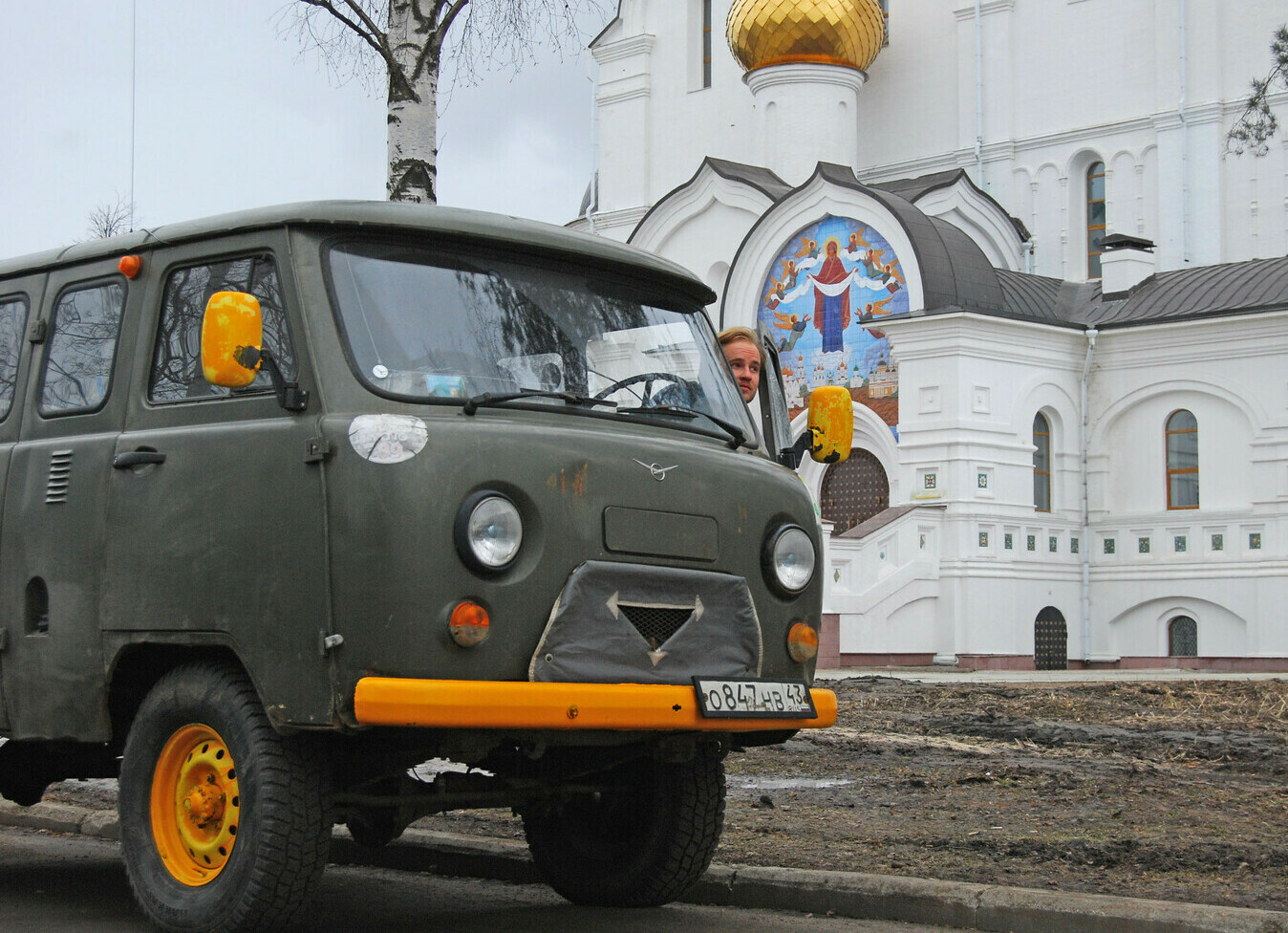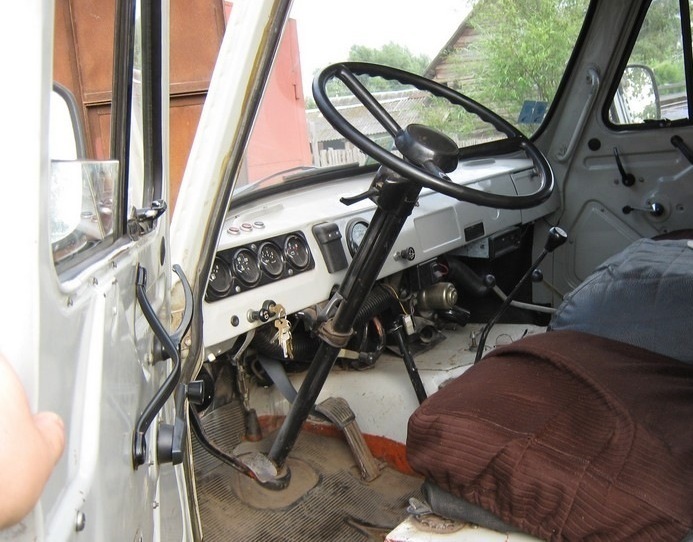 The steering wheel is almost horizontal like in old-fashioned busses and tracks. The driver's seat is placed on the left side. Depending on your size, it might be from 'slightly uncomfortable' to 'absolutely terrible'. If you are low, you may have problems with reaching your pedals as well. Should I say that it's not possible to move the driver's chair closer or further? My wife Ira one drove a very old Bukhanka with a broken chair, so she pushed pedals only on tiptoes being 173 cm tall. 
Pedals are tight. The accelerator is on the floor, while two others are located much higher hanging from above. It's not the problem for driving the highway, but off-roading and standing in the traffic jam quickly turn into a weird exercise of constant lifting legs.
Interior ascetism is impressive. For example, you change between long and short light pressing another tiny pedal on the floor! 
Since you are sitting very high, you have a good vision to the front of the van. Just like in bus or track. Having no hood is funny, too. You may stop very close to other cars scaring people who used to drive with the hood.
Bad news, that you can't see anything at the back of the van. The mirror is small and shows you only the upper part behind the van. We used it mainly to see passengers from behind while talking with them during long trips.
Powered steer wheel became available only for new vans produced after 2012. Remember, parking and moving in narrow city streets is a real challenge without a powered steer wheel. Driving highways is not a problem even with the old-fashioned steer wheel. You just need to get used to the steering play. It's easy. Just imagine that your van answers your movements with 1-2 seconds lag. Do not turn it left and right trying to catch the van. Keep it straight and hold tight.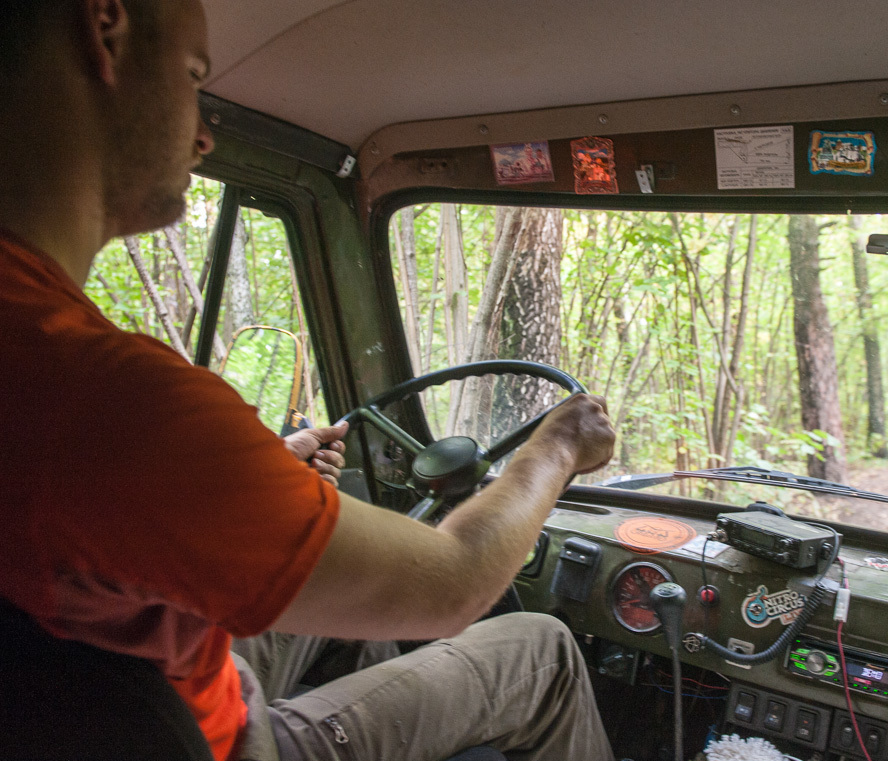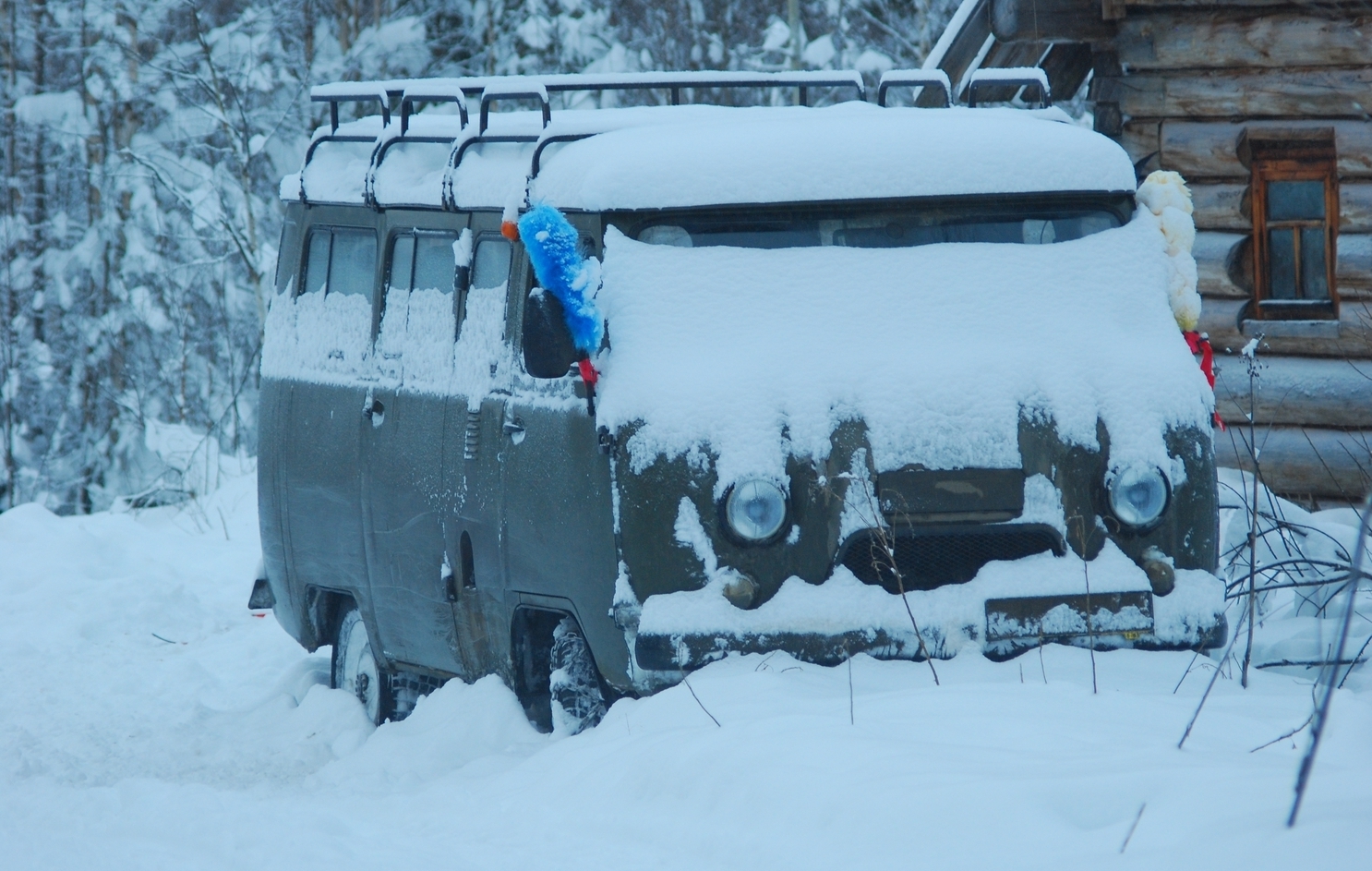 The heating in winter is our headache. There are two main options: burning and freezing. Ultimate climate control! Usually, you burn and freeze at the same time, like washing hands in the UK.
We used to change the heating regime every 2 minutes to make the temperature normal. It's even worse in summer because you need to protect your engine from boiling. There's no air conditioner, so we used to open all doors and push the accelerator even during stops to make fans run faster.
Good news? You get used to it quickly, not taking it as a problem. Just like washing hands in the UK (sorry :).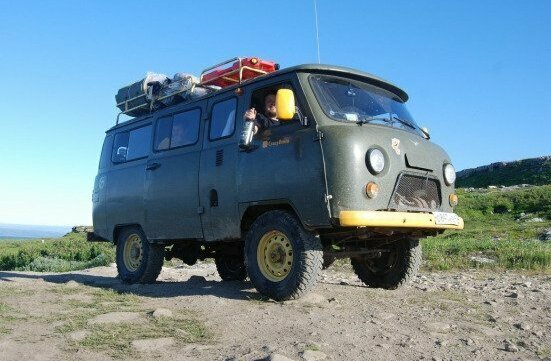 For 10+ years of our experience, we drove more than 100 000 km by ourselves. We made several long trips, many times we drove to Russian north in winter and to Caucasus mountain to our cave expeditions. Ira also rode Bukhanka in Western Siberia studying peatlands many years in a row in scientific expeditions. Once, Tony visited Finland to make a many-day tour to Russian for our Finland friends.
First, you need to know that Bukhanka is not a nimble car! It's slow in acceleration, braking, and turning. Driving the van, you should be relaxed and calm. If you go the highway, just use the lane with the lowest speed overtaking trucks from time to time. 
Our normal speed reaches 90-100 km/h in Russia. If you drive faster, the van is too noisy and it's shaking which is quite scary. So it's better not to drive too fast. Our average speed with stops in cafes is about 55-60 km/h. So it takes us about 24 hours driving to get from Moscow to the Caucasus Mountains.
During the trip, up to 6 people may stay inside the van. We use our bags to make "the soft floor" which is perfect for sleeping in the night. During the daytime, passengers have a great time talking and drinking beer. It's one of the unique things you can do with UAZ! Partying inside with a group of friends during the journey to the middle of nowhere.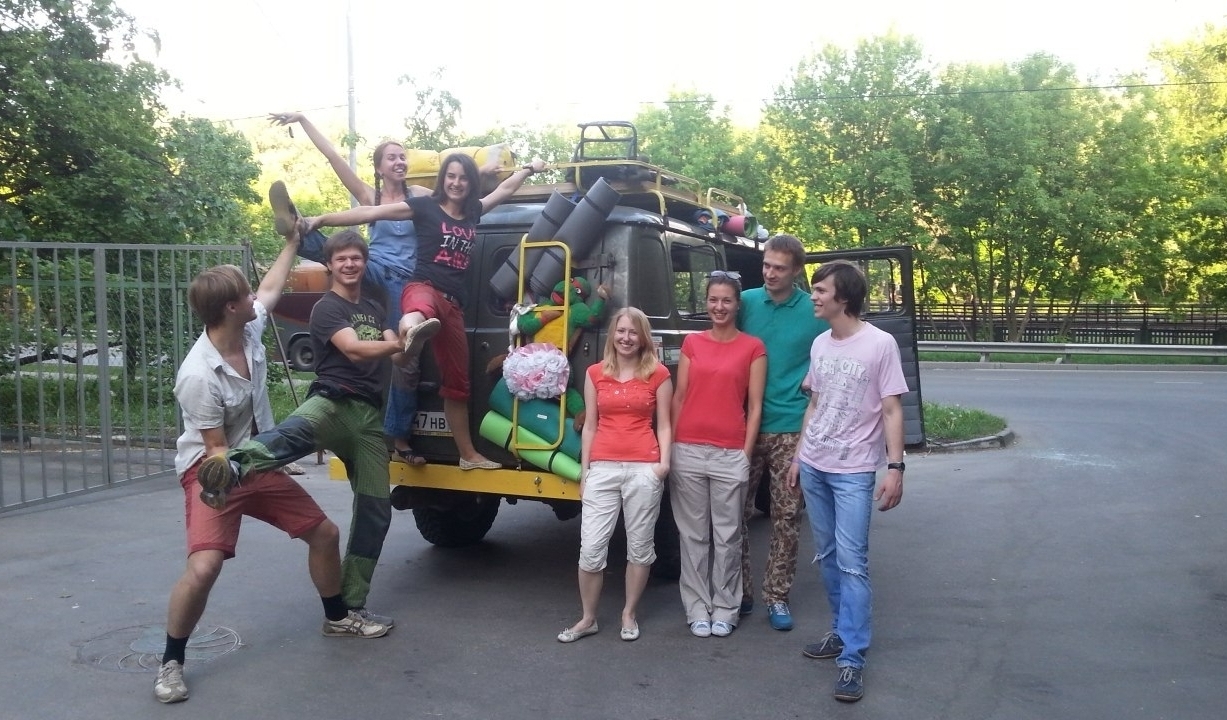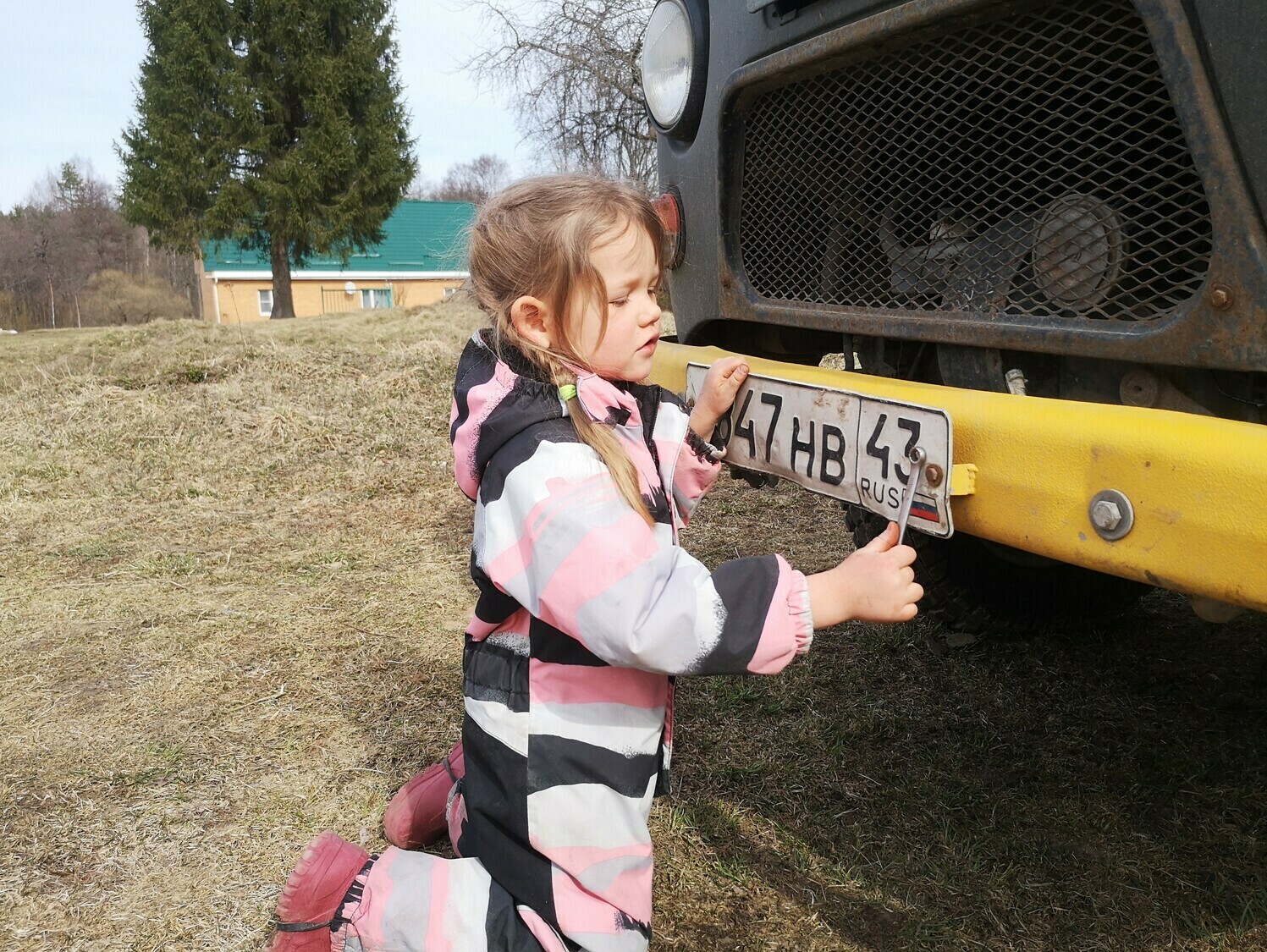 Modifications

and spare parts
Bukhankas have been produced since the 1960s and they still look the same. However, during all these years, engineers make a lot of tiny changes and huge upgrades with every single part of the van (except an interior and an exterior). As a result, now we have a lot of Bukhanka modifications. 
Unfortunately, such changes are poorly documented, so even Russian can't easily s track them down. Below you will find the most important details about van specifications that you should know about.
UAZ Buhanka: 1960s vs 2020s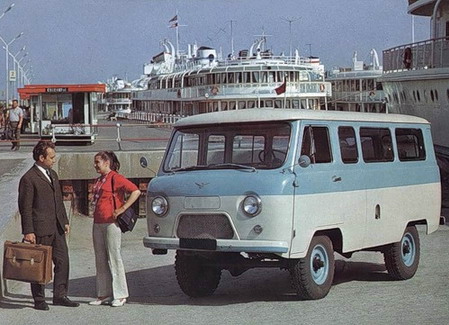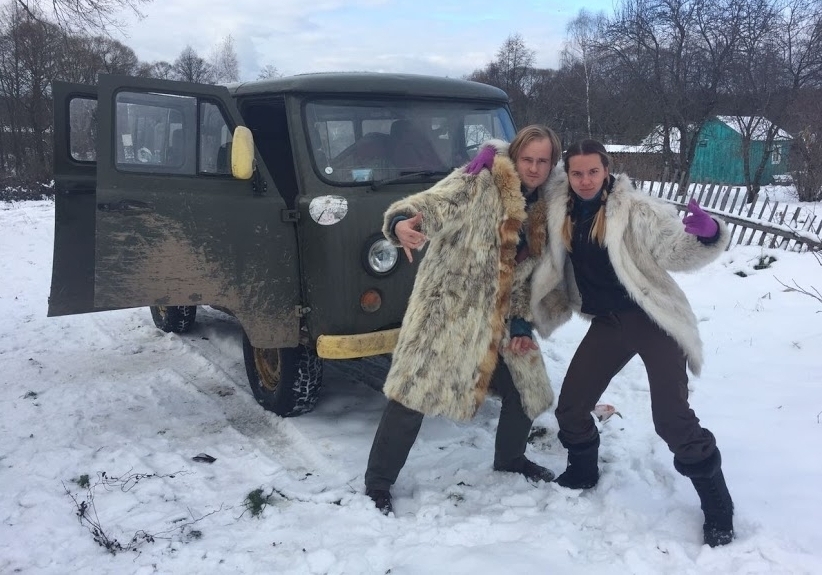 UAZ Buhanka (2206 / 452): Technical characteristic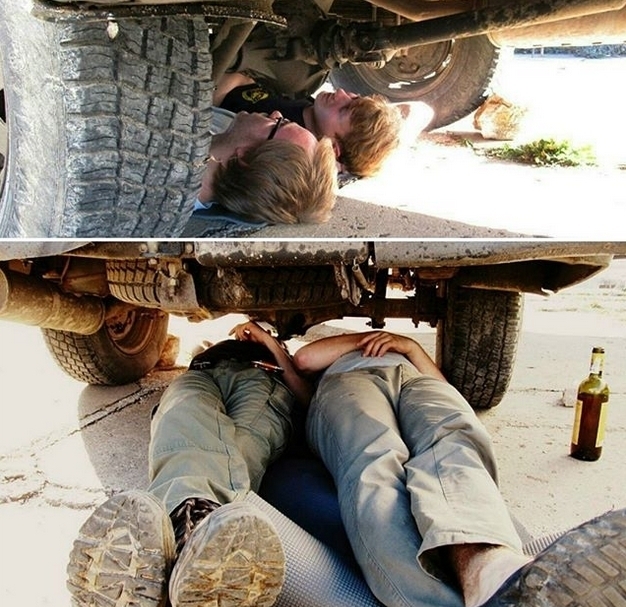 Bukhanka is a frame-based car with two axels. As simple as reliable! In general, there are two types of the frame before and after ~2015 year: i) old-fashioned frame, ii) modern one. It's important! 
The old frame was extremely reliable with almost no way to be broken. It had a primitive and as a result robust suspension. That frame was narrow, which resulted in problems with the van body (it gradually came apart at the seams…)
The new frame comes with less ancient suspension. It's wider, so it's better for the van's body. However, being made of low quality steel, the frame became less reliable. It breaks!
The car is equipped with two axels which makes it reliable but not maneuverable. If you drive the bumpy or rocky road and hit something, you definitely hit it by axel. It's almost not possible to break the axel which allows you to run over tree stumps, rocks, and the remains of old cars.
The single problem is tiny oil leakage from inside. So do not remember to check its level and add more oil from time to time. If you cross the river, sometimes water may get inside (we have no such problems for 10+ years, even when we almost drowned the van!) If it happened, just change the water to oil J UAZ 2206 is so robust and simple, that you may use even the sunflower oil for that.
The front axle is equipped with kingpins that need to be checked as well. Do not forget to oil it. From time to time you need to jack up the car and push the wheel. If you notice some movements in kingpins, you need to pull them up or even change for new ones.
In the old Bukhankas, you may steel meet drum brakes without any powering at all. It's terrible and unsafe. Drum brakes with powering are much better but not a good choice as well. From 2008, engineers started to produce vans with drum brakes at the rear axle and disk brakes at the front one. Sometimes people install disk brakes by themselves. It is easy for the front axle because you just buy and install the new UAZ brakes. There are no such brakes for the rear axle, so people use spare parts from other cars and make their own craft solution.
There are some kinds of gearboxes and transfer cases which are do not differ significantly. They are more or less ok, just remember to check the oil level regularly. 
Old-fashioned vans have only 4-step gearboxes. Only several years ago UAZ factory started to produce 5-steps gearboxes. So if you plan to drive a lot by highways, you should buy the modern version of the van or change the gearbox in the garage.
First vans were completed by weak 75h.p. engines with carburetor, modern Bukhankas have 112 h.p. engines with an injector. In my opinion, the latest modification of the engine is the best one (ЗМЗ-409 in Russian or ZMZ-409). It's simple, reliable, and usually does not requires your attention. 
If you read this article, you probably live in Europe/UK/USA and thinking about buying the old UAZ to save money on taxes. In this case, the model with a carburetor is your main choice. They work well, but you should be ready for 1960's technologies (or have a good garage nearby).
Electrics in the modern UAZ have an impressive level of primitivism. It's assembled manually (!) at the factory and looks like dozen wires fixed at random places. The system is simple if you have a testеr and base knowledge of physics. You may find documentation (in Russian) for modern vans, but most used vans have a lot of upgrades made by previous owners. If something does not work, it's often simpler to make the new wiring system than to repair the old one.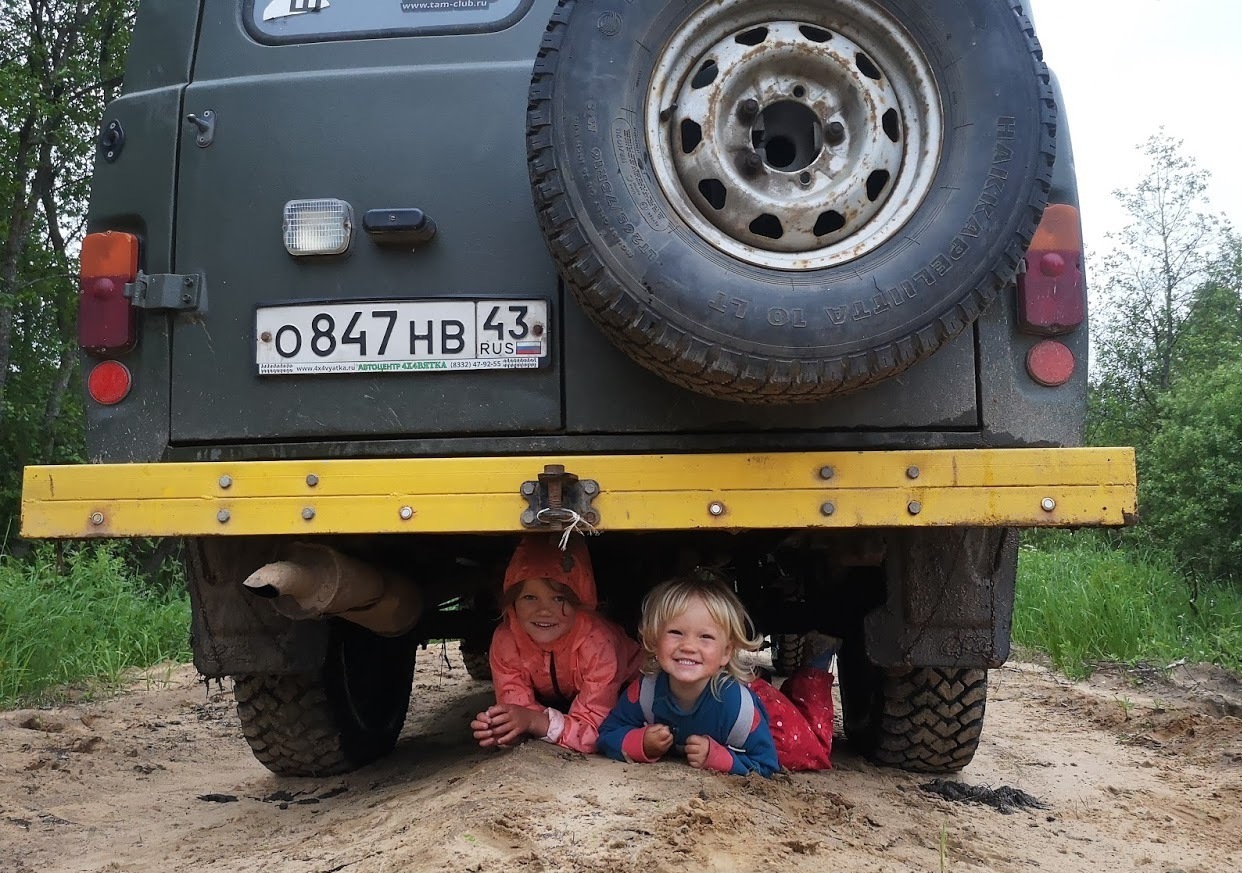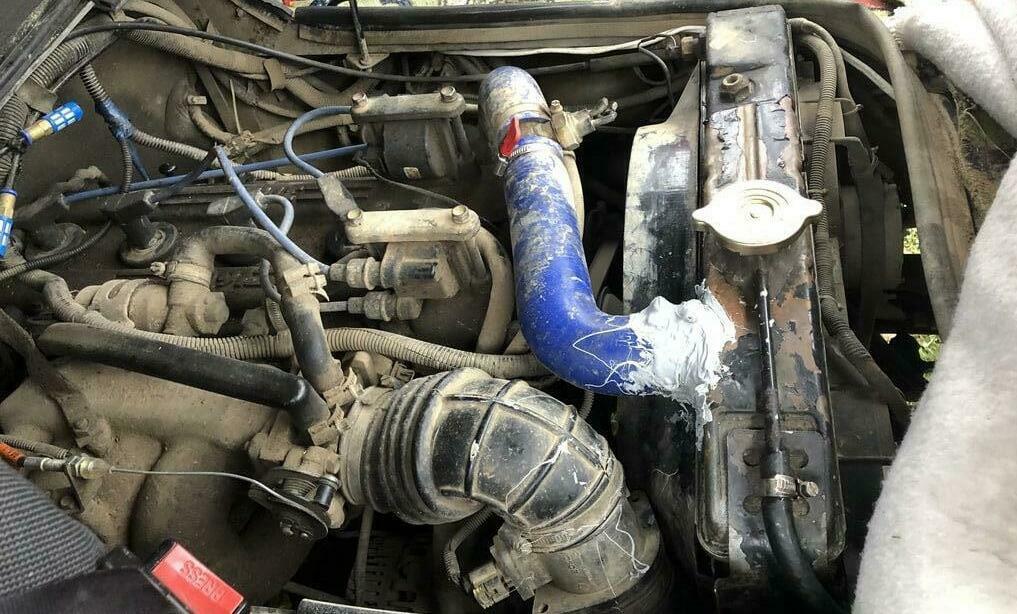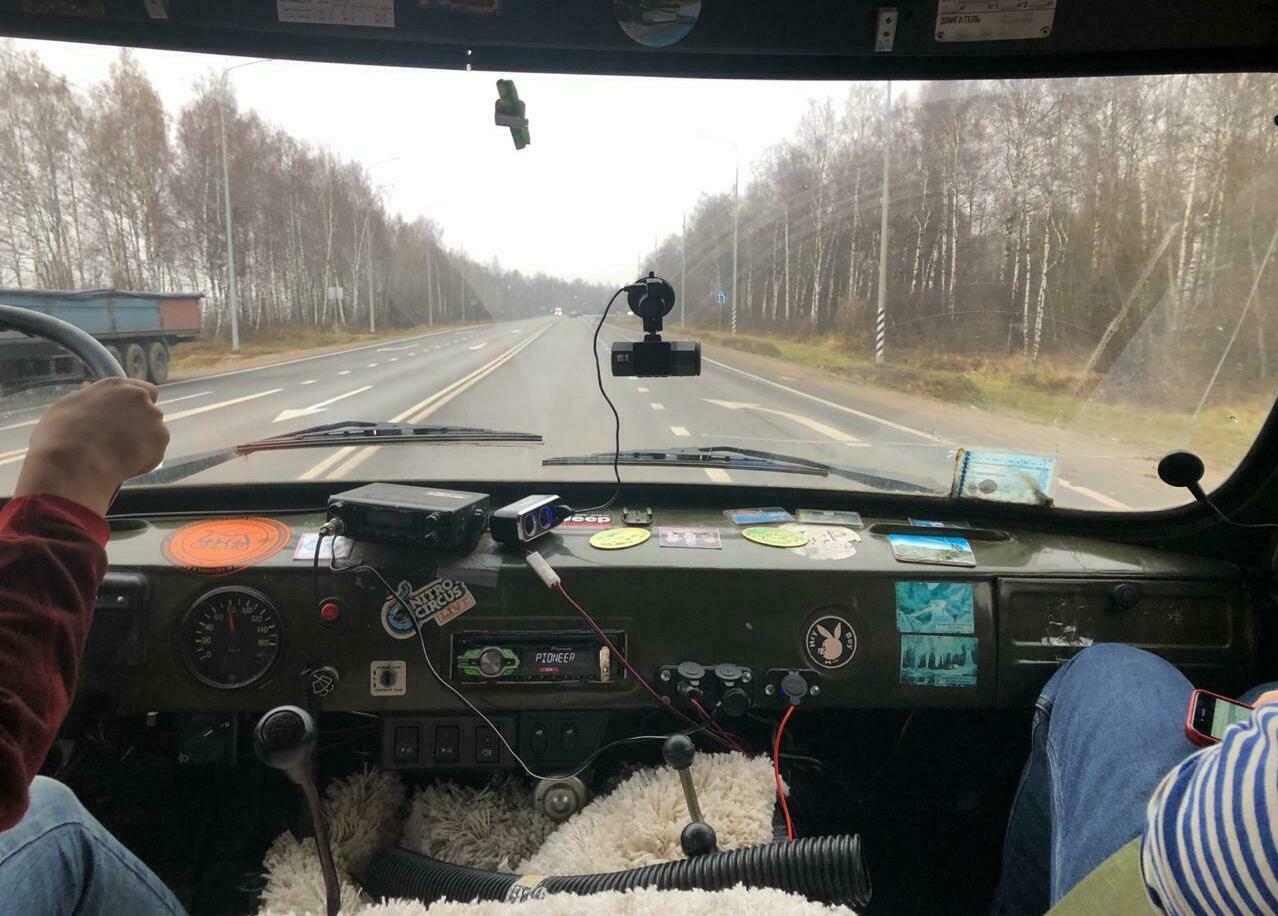 Maintenance List (UAZ 2206 / UAZ 452)
- Change the air filter, oil filter, fuel filter (!), and engine oil regularly. Check tire pressure. Check all wheels.
- After the purchase: protect your van from corrosion (especially the bottom of the van). Clean rusty areas and use anti-corrosive substances. Do it once in 5-10 years.
- After the purchase: change all consumable parts of the van and oil Cardan, kingpins, tie rod ends, door hinges, and all oilable parts! Do it regularly.
- Check/fill with oil: axles, engine, gearbox, transfer case, steering gear.
- After driving your first 1000 km, it's important to check all nuts and bolts. Sound strange? In the first month after purchase, we found about 10 dropped bolts laying on the floor of our own van. So just check the most important ones and tighten them!
- Check the engine belts. They burst once in a year but in the most uncomfortable moment. So change the old ones in advance.
UAZ Meditation: approach the van and scrutinize it for several minutes. Then relax for 15 minutes and do it once again. Soon you will see what to repair.
When you drive, listen to the sounds of the van. If you hear some new noise or vibration, you should search for its source. Do not ignore it. We found the following problems with this method: almost broken Cardan crosspiece, broken fender liner, problems with main gear in the rear axle, whistling engine belts (R.I.P.), etc.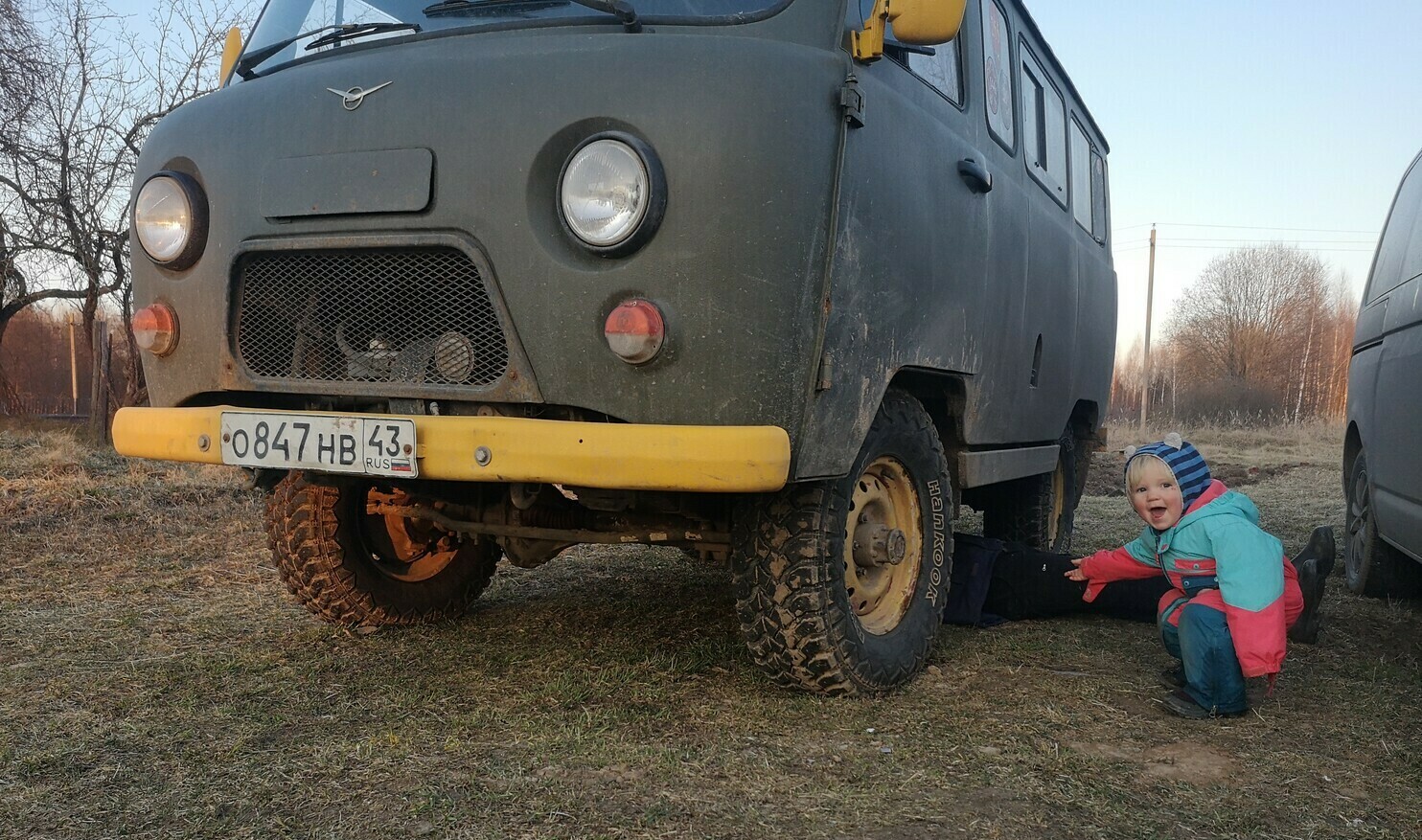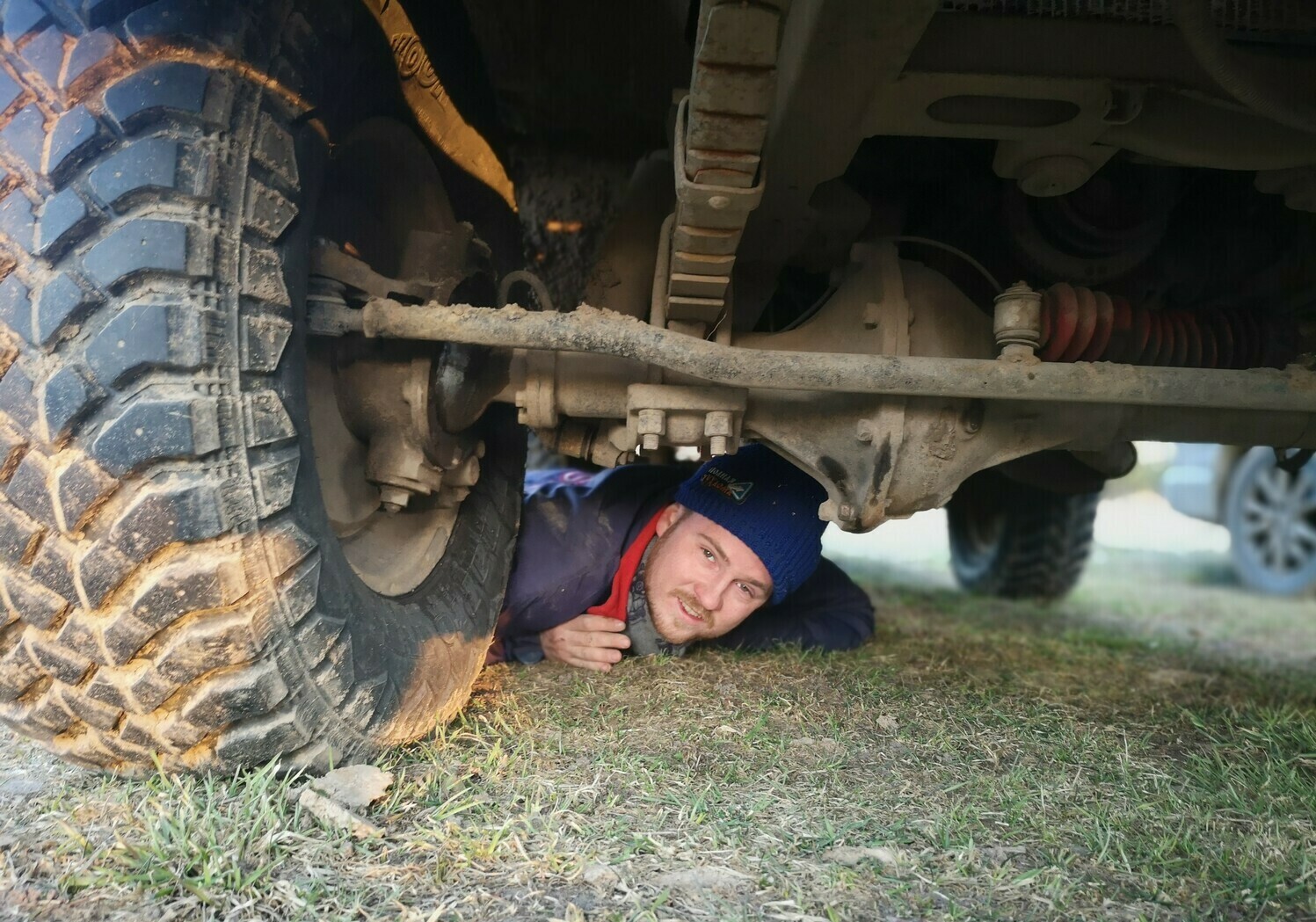 Read
this article
if you want to buy a van in Russia. We tried to describe all available options with their pros and cons.
If I were buying UAZ from abroad, I would definitely buy a lot of spare parts as well. In Russia, they are extremely cheap! When I need something, I just take the old detail with me and ask the seller to give me the same one. Things are more challenging when you are not in Russia. So there are two main options: i) buy them via UAZ official website with a delivery to your country, ii) contact me, so I will give you a bit of advice on what to buy and then do it for you for an extra price (depends on the time which I will spend).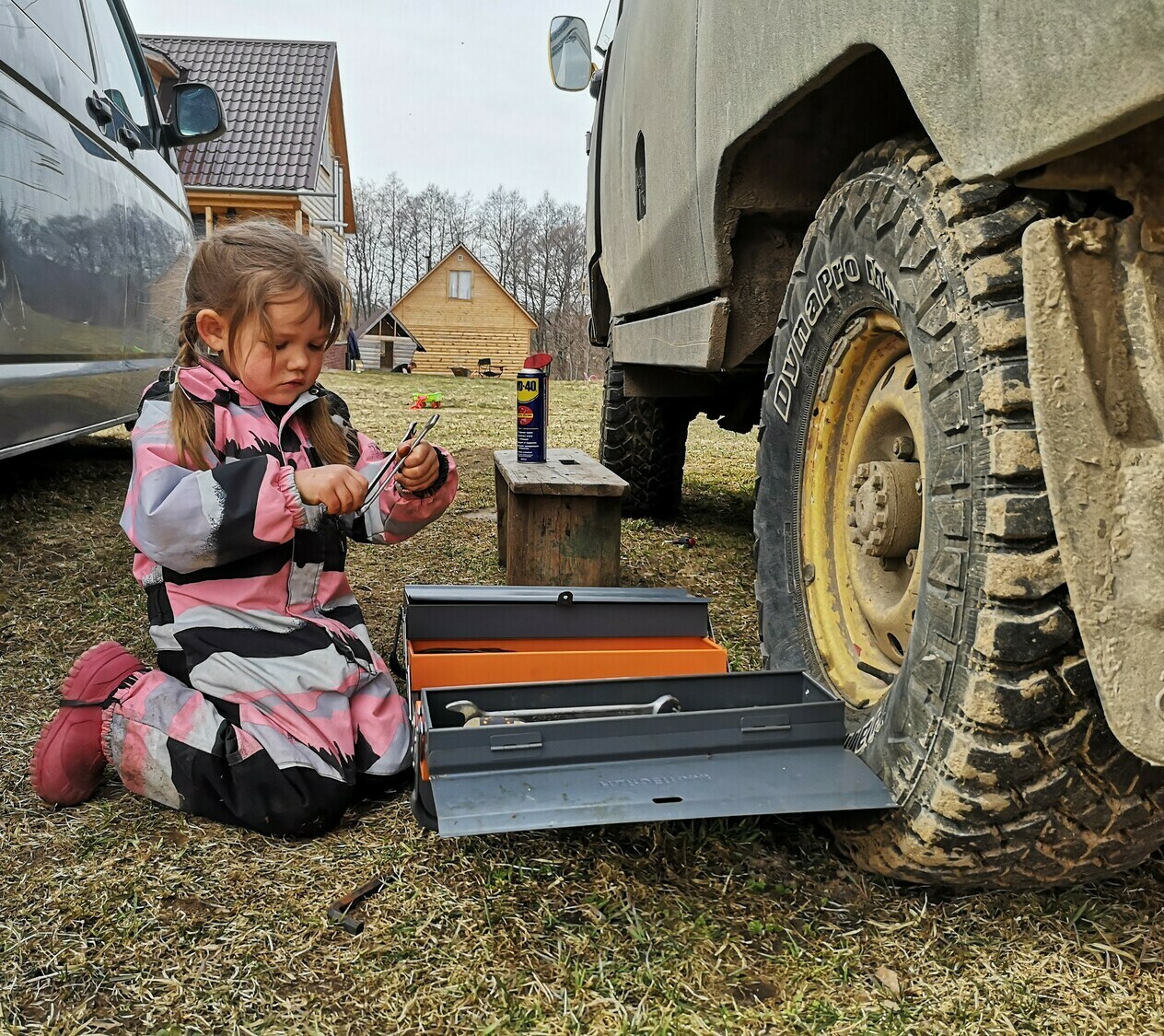 Bukhanka is the most popular van in the Russian countryside. People use it for many years in a row. Taking into account climate conditions in Russia and the state of its roads, it's quite expected that all Bukhankas break from time to time. 
What people do when factory parts of a poor quality break? They change them for better ones! So millions of creative engineering solutions were invented by folks here in Russia! Some of them are well-known and available in the market. 
For example, you can order custom window lifters, windows, cow-bar, wires of good quality, good kingpins. They are all custom and not available via the official website.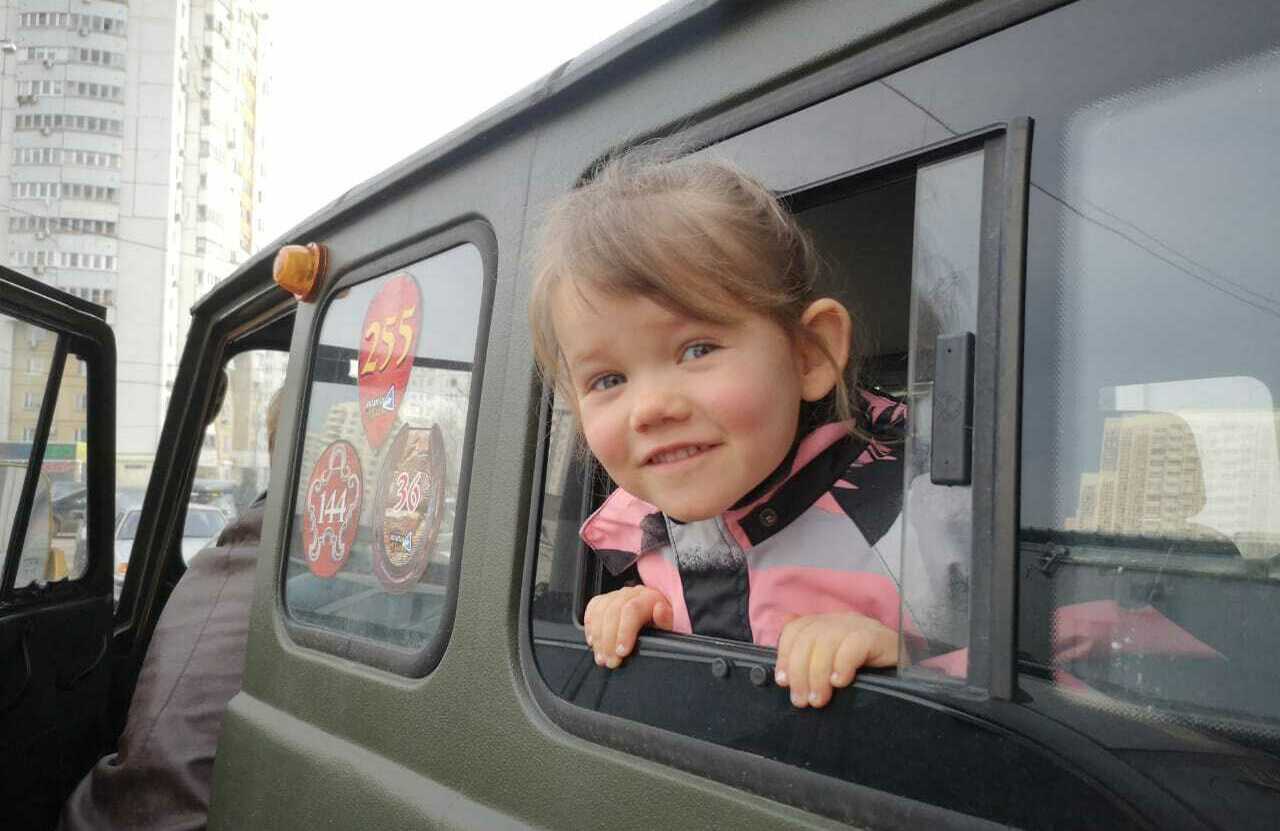 We plan to make

a big winter Tour from Moscow to Baikal for 1-2 months by car in 2021-2022

.
We will visit many cities and villages on our way there to see the real Russia as well as make a wonderful journey in Baikal region with visiting many non-touristic sites. Do you want to join? Email us!